Joined

Feb 14, 2020
Messages

713
Reaction score

538
Location
I just got back from a trip to the Adirondacks with one of my usual tripping companions. Not a wilderness trip, but we didn't have more than a few days and needed somewhere with cell service. We launched in Northwest Bay Brook (free parking) and traveled down Northwest Bay and to the islands in the narrows between the north and south basins.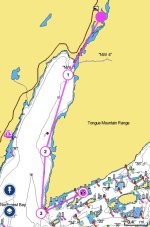 I had been in the area a few times on fishing trips, but never by canoe. I knew the lake can turn into a beast with a north or south wind, but that wasn't called for and had confidence the TW Special could handle a bit of rough water. As the brook widens the scenery can't be beat and it was a beautiful day.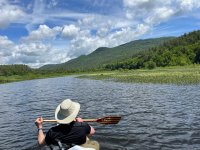 As we got a couple miles down the bay we could see the white caps after the point. There was a stiff breeze out of the north east that wasn't called for and not noticeable due to the ridge line on our left side.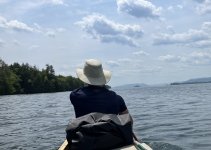 We figured we would see how bad it was as we turned the corner.
It seemed manageable as we turned, but as we kept going the wind continued to increase and it was pretty hairy. Up front stayed dry, but I took a couple waves over the side- enough for me to slide down and paddle from a kneeling position. I was glad I put the minicell pads on a few days prior. We were able to tack to the lee of the first island and wait it out a bit. It did die down enough to safely paddle another mile or so, but when we got out around the corner of the big island (Turtle Island) we weren't making any headway and decided we had had enough for one day. We found a nice spot on Turtle island in a small bay and called that good for the night.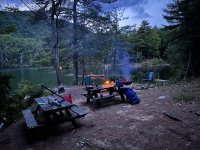 We had planned on Gem Island being our base camp, but being out in the open water wasn't an option. We had this island to ourselves and decided to stay for the next few nights. We had an uneventful rest of the trip and had a fine time fishing, paddling, and just taking it easy.