Joined

Jan 3, 2015
Messages

839
Reaction score

218
Location
I thought I'd start a thread on knife making and try and share at least what I do. Please feel free to add your own experiences to the thread. I'll try and answer questions as best I can. So far I have not done any bladesmithing but maybe someday. For now I buy my blades from Norway, either in person the last time I was or through contacts. The blade in this knife came from Finland
The first step is to make their bolster. I am using bronze because I have a lot of scrap pieces from past big boat work. Drilled a couple holes in decreasing size to match the tang.
.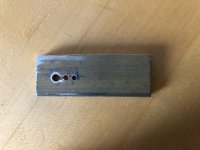 Then with needle files I enlarge and connect the holes.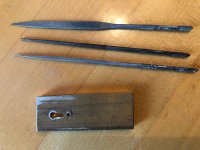 Then larger files still and careful work to fit it to the blade.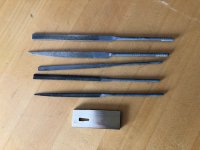 Finally it is cut down closer to final size. It is easier to hold onto while it is bigger. Next was to cut a piece of antler and the next piece of the handle. I only have a general idea of what I want when I start so things can morph a bit as they progress.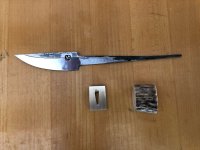 Then I trace the hole in the bolster onto the antler.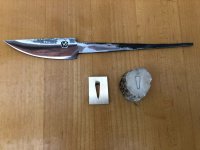 More to come obviously.
Jim