Administrator
Staff member
Joined

Oct 24, 2012
Messages

3,837
Reaction score

1,945
Location
I agree with the rope attachment method discussed in this article for many but not all types of whitewater river conditions. It was used by members of my whitewater club 35 years ago, with double quick-release mechanisms for the rope in case of snag or entanglement, when playing solo in big holes that would produce frequent wipeouts and swims.
When you're on a remote trip by yourself, this setup is your only chance of recovering your boat.
paddlingmag.com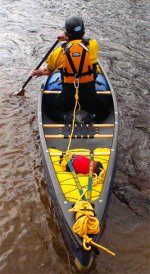 One undertakes several non-standard canoeing risks when on a solo whitewater trip. So relative risks have to be balanced against one another. Losing your boat, gear and food is just about the biggest risk of all, so anything that can reduce that risk, though it may be a risk itself such as rescue rope self-attachment, is likely to be a lesser overall risk.