Joined

Jun 12, 2012
Messages

3,989
Reaction score

1,788
Location
Grand Lakers are to eastern Maine's Grand Lake Stream area what drift boats are to the great fishing rivers out west. They came about in the 1920's or so, Guides would get their big 20 foot traditional canoes towed up lakes via lumber steam barges with clients (Sports) and paddle back fishing for trout and salmon.
When outboard motors came about, they added a square back transom, but still kept the ability to paddle a Sport into quiet coves to fly cast for the fish. Today, the Grand Laker is the boat of choice for guides in the Grand Lake Stream area and the Sports are atracted to these craft as they where almost 100 years ago.

After my recent canoe trip to the area with fellow members of the Wooden Canoe Heritage Association, we stopped at a canoe shop in Grand Lake Stream to meet Dale Tobey and see his work. Dale is a Maine Guide and takes clients fishing on the local lakes in his Grand Laker, and he builds, repairs, and restores Grand Lakers in his shop.
Here is Dale in the green checkered jacket explaining a restoration he recently completed.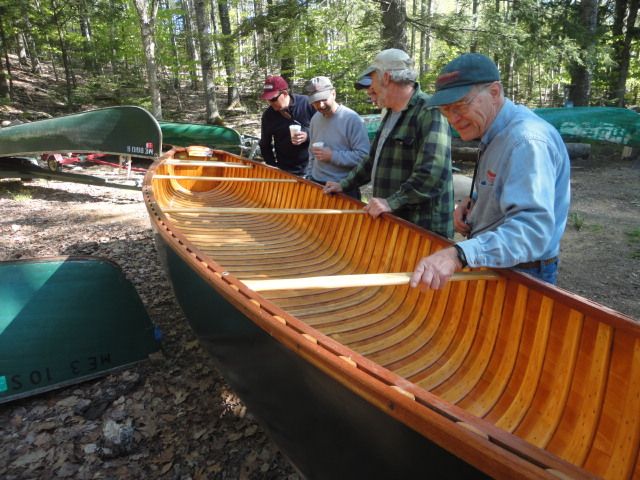 Inside the shop, Dale shows us a recently completed new canoe. That's a one piece mahogany transom, cedar ribs and plank and a fiberglass covering to stand up to the rigors that a working canoe like these see.
This is Dales working canoe, the one he uses to guide Sports with. Lots of different fishing poles stored above the canoe. Being a guide, it helps to have a way with words to pass the slow times out on the water. Dale is a real Mainer and his personality showed that he has the gift. I was happy to hear that he uses a cold handle frying pan when he cooks a shore lunch for the Sports.
Dale Tobey can be reached at
djtobey@maineiac.net