Engineer by day, parent by night, and nature junkie by weekend, I live for the solitude and beauty of wild places. Usually, I'm the orchestrator of my family's outdoor adventures. With his boyhood passion for canoe camping burning full flame, my husband surprised me by orchestrating our family canoe trip to the Boundary Waters Canoe Area.
Having recently returned from our first Boundary Waters canoe trip, I can say only one thing, …I''m hooked! We''ve been back only a few days, and already it's impossible to stop scrolling through trip photos and daydreaming about our next Boundary Waters adventure.
Despite my forgetting my hiking boots, and doing the whole trip in my work shoes, and despite the rainy week, and despite an unmanageable pit bull at the put in and following us through several portages, it was wonderful.
Our contrary child (who stubbornly insists she doesn''t like our wilderness adventures despite our continually catching her having fun) did not get to see a moose, which was her quest for the trip. But we did get slapped by a beaver, saw plenty of loons, and watched eagles fish. Our daughter did more singing and smiling than ever, and she says she wants to back. Of course, she insists for our benefit that it's only because she wants to see a moose.
As for myself, time moves quickly in the wilderness. I feel so much more myself, and so very much at home in the outdoors. I loved every wet, muddy, rainy minute of it. My husband, like me, can't wait to get back out there and do it again!
Want to hear the whole story? Check it out at
http://mamasbasecamp.blogspot.com/20...ry-waters.html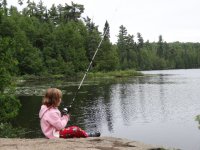 Last edited: