Joined

Jun 3, 2015
Messages

2,090
Reaction score

1,768
Location
My wife was recently in need of a new paddle after her current favorite was broken. This was second favorite paddle of hers broken by someone else.
We had hoped to find one at the WCHA assembly, but no luck. So we stopped at Raquette River Outfitters on our way home to have a look. They carry Badger Paddles. Most were cherry and although beautiful were heavier than she wanted. We found one made from sassafras in her preferred length of 54 inches that was very light. (22.25 oz. When we weighed it at home)
The paddle was a traditional otter tail shape with a 28.5" blade. She liked it immediately and said it felt better than any paddle she had used before. Her previous paddle was a Sawyer sugar island type in the same length.
After looking at the paddle for a few days it occurred to me that this was the paddle that I had wanted for a number of years. Many years ago I had seen a vintage photo of a guy holding a paddle the appeared to be half blade and half shaft and liked the look and wanted one.
I took it out for a test paddle and it surpassed my expectations. First off, it had way more power than I expected. I thought an otter tail would pull less water than an equivalent beaver tail but was wrong. This paddle is the Tripper model with a 5.5" wide blade. It carries its width almost the full length of the blade and you can feel the power from the large volume blade. This is not the blade shape if you are looking for something easier on your shoulders and hands.
With the extra catch and power I think I get just as much or more boat movement as I get from my 57" beaver tail, and being three inches shorter it is easier for hit and switch style paddling. It was great for heeled over paddling amidship and power paddling switching from the stern.
The short length made it very comfortable paddling. I didn't have to angle it a certain way to prevent my arms from going too high, it was just natural.
The oil finish was nicely done and feels and looks great. The blade is thick enough to be reliable for tripping yet it still cut through the water nicely for underwater recovery strokes. It comes with a protective one size fits all sock, so if you get two paddles, you get a free pair of socks
.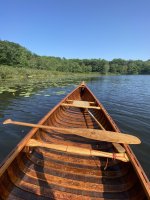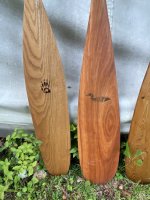 Here it is compared to a beaver tail. You can see the extra volume.