Joined

Aug 29, 2017
Messages

1,126
Reaction score

546
Location
I think everyone knows of Bungee Dealee Bobs. By all accounts a terrific product consisting of a length of bungee, a cord lock and a toggle that is threaded onto the bungee.
https://www.bdbcanoe.com/bungee-deal...ountain-biking
Some of us who have cord locks and bungee hanging around have, of course, made our own versions. On mine, I've not bothered with a separate toggle. I just use the cord lock as both the cinch and the toggle. And while I have worried the short length of the cord lock might be prone to twisting sideways and thus detaching from whatever it was wrapped around, that has NOT happened to me in operation.
Recently, however, as I was pulling one out of my pocket on my pfd, the cord lock, which was already very near the bite end of the bungee cord, got caught in the pocket and popped off the bite end of the bungee completely. No problem, I just reattached the cord lock and tied a second overhand loop at the bite end. Now the cord lock won't ever slip off.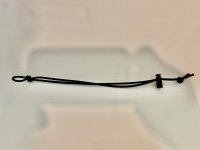 In addition, I've discovered if the loop is sized correctly in relation to the toggle, the toggle can be pushed through the overhand loop and you will never have to worry about the cord lock potentially turning sideways and letting loose.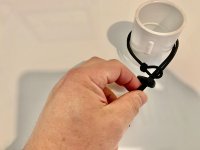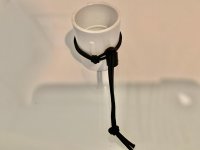 Not a big deal but thought I would share it.
Prior to adding the extra loop at the end, I was using them like this.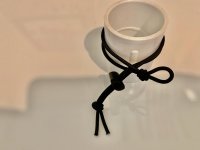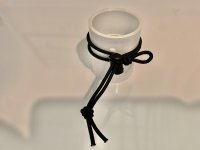 Last edited: