Joined

Nov 22, 2019
Messages

428
Reaction score

178
Location
Well, during a thread discussion last month on workmanship that was centered on cast iron cookware I mentioned that I had ordered a Victoria 12" skillet and would report back when it had had some use. Victoria cast iron cookware has been made in Medellin, Columbia since 1939. I stumbled on them while looking to see what a reasonably priced alternative might be to Lodge for a 12" skillet as, even with a lot of CI cookware ranging to truly large camp ovens and griddles, I didn't have a 12" skillet.
Victoria seasons it's cast iron with multiple coats of flax seed oil at high temperature which is fine by me as that's what I do. I've never had any of the issues some folks claim for flax seed oil and have found it better for my purposes than anything else I've tried but your mileage may vary....
The skillet came with a cardboard wrapper that had full use, cleaning and seasoning instructions on the reverse side. The finish seems to be a finely bead blasted finish that is less rough than current Lodge products and the seasoning was very uniform in color and evenly applied to all surfaces with none of the thick spots or barely covered spots as seen on some Lodge pieces.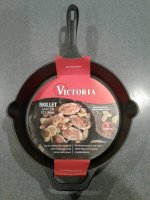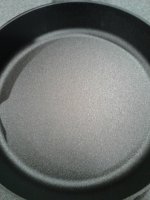 As a side note, the proliferation of rough(ish) surfaces on modern cookware seems to lie at the intersection of the high cost of skilled manual labor and the market's desire for ready to cook "per-seasoned" cookware. The simple reality is that seasoning adheres better to a slightly rough surface and that fact combined with consumers mesmerized by the lowest possible price got us to where we are now. And it's worth remembering that folks like Griswold and Wagner had rougher non-polished cookware, some of it either without their name or privately labeled for other retailers so there's a lot of "rough" old Cast iron out there too.
The Victoria skillet's handle is longer and wider than a Lodge handle which fills my hand better and it has the curved up-swept profile of professional cookware designed to get your hand further from high output burners and give you a better leverage angle for handling the skillet. All of which is a good thing as the skillet weighs 7 pounds 11 ounces (3.5 kg) empty.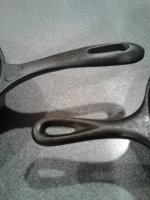 Comparing the weight of cast iron cookware is often a game of approximations as both old and new cookware can vary a fair bit one piece to the next but the average of several review's weights for a current Lodge 12" skillet show them to be a bit heavier but not so much as to be really meaningful.
Now to the reason for trying the Victoria skillet out; how does it cook. Right out of the box I decided to take the claims of per-seasoning at face value and went right to frying a few sunny side up eggs with just a few drops of oil wiped in the pan. They didn't slide right onto the plate with a gentle shake of the pan as my older skillets do and they had to be coaxed free with a spatula. Not perfect but not bad for a new pan either. A few more morning runs with bulk breakfast sausage and eggs etc all went fine but, with just two of us, a 12" skillet doesn't get used too much.
Yesterday, Valentines Day, holds another place in our lives as it is also our wedding anniversary so I decided to step up and begin the day with a Dutch Baby pancake for breakfast (complete with a sauce made from defrosted wild blueberries) and ended the day with a homemade double chocolate cake with a dark chocolate frosting. The Victoria skillet got used for the Dutch Baby and did a great job.
After brushing it with oil and preheating it in a 450F oven (230C) Nancy spent the next 20 minutes peeking through the wall oven window as the popover style batter did it's puffy magic. And the result..... Beautiful crisp crust, light airy center and that rich eggy bottom texture of an overgrown popover. What's not to love?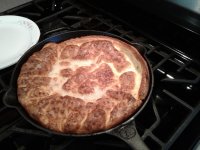 And after a swipe with a paper towel the skillet was ready to hang back up. The finish, as you would expect, is getting darker and slicker with each use. The line around the rim that almost looks like a groove is from shadows caused by the six can lights over the kitchen island. The skillet's bottom is one uniform slab of slick black iron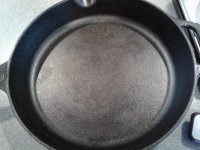 Overall it is a darn good pan and a darn good value. The finish, the comfort of the handle and the quality of the seasoning beat the Lodge hands down. The current Amazon price is down to $19.99 with free Prime shipping for either the 10" or 12"" Victoria skillets. As at least four of our six kids cook with cast iron I suspect that a some of our kids will be getting these as presents. I give the 12" Victoria skillet a solid five forks up!
Now as this is a canoe tripping site I'll add that if long portages are in order this skillet, or any other 12" cast iron skillet is likely not going on my packing list. But for base camp style tripping or short carries with a larger group than just we two it could very well make the list. Meanwhile I'll likely stick to a 10" skillet for most trips.
So enough rambling for now. I see that our red-tick coonhound, Rosie the Wonder-Hound is laying on her side looking at me with a tennis ball in her mouth. Her tail thumps softly each time I look up so I have to go now and enjoy the sunshine with her....
Best regards to all and happy cooking to all, too.
Lance
Last edited: