So this one is all done, so to speak. Finished up a pack canoe that I started last fall, which took a lot longer than expected, and day before yesterday I decided to get the gorewood ply canoe out of the basement to fiberglass. It emerged from my basement window all eager to go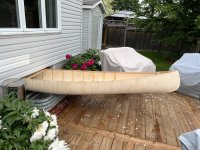 Put it on a couple of sawhorses in the back yard and proceeded to sand the rough spots around the stems and the darts along the side. I was pretty pleased with how little sanding was involved - after about 20 minutes with the ROS I was almost done.
Then disaster - one end slipped off the sawhorse as I was tipping it to do the inside. It hit the ground from about 3 feet up and completely snapped one of the lightweight gunnel pieces, while popping the adjacent gore.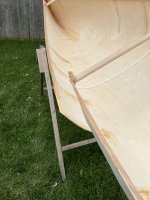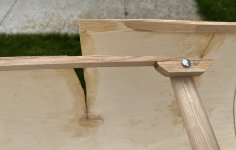 It was a clean break with almost no damage to the hull itself - very repairable. I was tempted to clamp it up with some thickened epoxy and add a thin ash strip along the whole length of the inwales to beef things up. It would be an invisible and effective fix.
But in the light of day (as opposed to the dead of winter when I first decided to try this out), the excessive rocker I had created by not being careful enough in my cutting (5 inches at both ends, on a 14 foot canoe) was just too much for me.
I decided not to spend the time and fibreglass/epoxy$ on a boat that deep down I knew I wouldn't use very much, if at all. So here it sits, waiting for garbage day.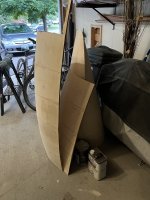 I am out about $100 for the plywood and maybe another $25 for miscellaneous stuff. Still, money well spent - kept me entertained for a while and I do like the ease and speed of construction. I might try it again, as I can't shake that divynicell core earworm. I know it is June, but Winter is coming ….
In the mean time, after trashing my rickety old strongback last fall after 4 builds, I am putting the finishing touches on a shiny new one in my garage (my wife is convinced I need professional counselling).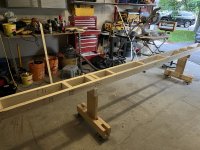 Thanks all.
Tony
Last edited: