Joined

Feb 1, 2013
Messages

3,690
Reaction score

1,160
Location
The weather forecast was for a nice day, light winds and some sun in the afternoon. Thought I would take the opportunity to get in a paddle, and see if I could find any Moose.
Also decided to give an update on the Thule racks. I'm not sure they are worth the amount of money I paid for them, but they are handy. When not using them, they can be dropped down into the box, and out of the wind.
Adjustments are done using these big knobby things. I think the instructions said these could be set up in an hour or two, but it took me considerably longer.
These big crew cab trucks present some unique difficulties for carrying traditional canoes with high bow and stern stems. In order to clear the roof, you would have to push your canoe so far forward that it would almost need a front rack mounted on the truck cab. However, the adjustability of the Thule racks solves this problem nicely.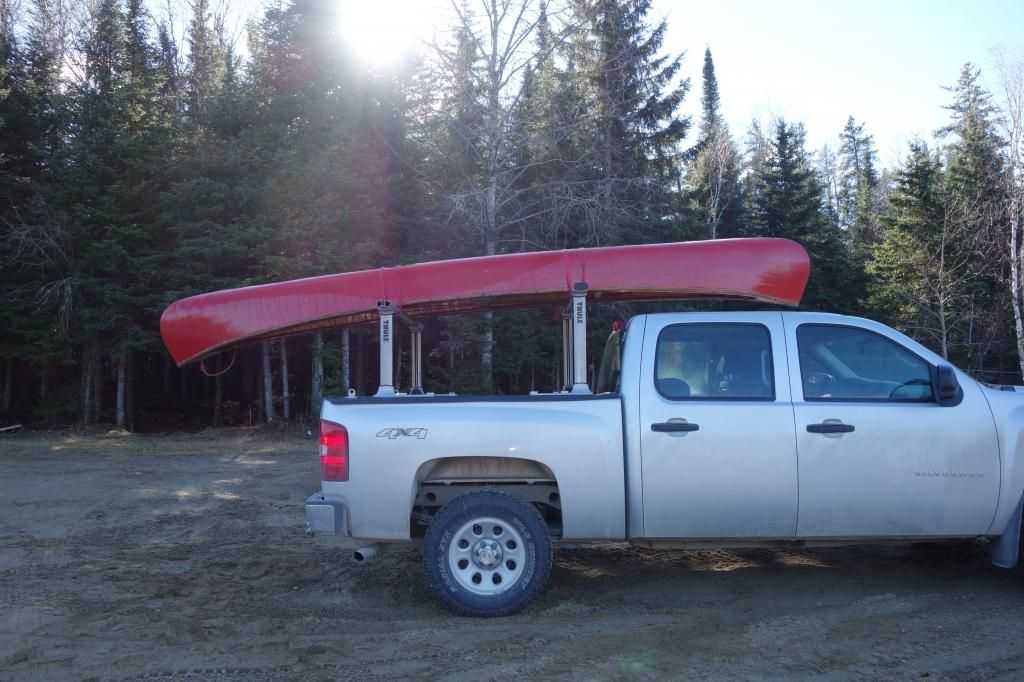 By lowering the rear rack, it is easy to accommodate any type of canoe. If this rack holds up for the next 15 years, I will considerate a good buy. Time will tell.
The canoe is my old Tremblay, built in the 70's. It was originally covered in verolite. For you wood/canvas purists, stop reading now. The Tremblays from this period were pretty rough.
When I stripped the canvas off, the planking was no where near sanded on the exterior, it was very rough and uneven. Lots of gaps in the planks too. I guess this didn't really matter, as the verolite was so heavy, it tended to cover all blemishes. Anyway, I took a belt sander to it and smoothed everything off. Think some of the planking might be white pine too. Then I took wide masking tape and covered every inch of the hull. I layed a ten ounce piece of fiberglass cloth over it, and wetted it out, then painted it red. That was about 12 or 13 years ago, and the canoe is still going strong. Satan didn't pop out of the river and cut my winky off or anything.
Anyway, decided to take the Tremblay for a paddle today, it hasn't been on the water for over a year. Paddled around looking for moose for about three hours, didn't see any, but it was a heck of a nice paddle. The Tremblay is a barge, flared sides and a flat bottom, but everyone needs some loving once in a while!
Last edited: