Joined

Aug 21, 2018
Messages

1,487
Reaction score

1,457
Location
I was originally not intending to post this trip report until mid-March, or even later. I have only two trips left - the Thelon River and the Snowdrift River. After that, I am all out of material, other than future trips. When I run out of material, I have nothing left to add to the CT site. And what then? How will I get any more likes? In reality, though, I will certainly run out of material eventually. So why not troll for likes now? Besides, I do like sharing these trips.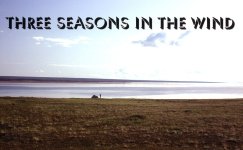 When Kathleen and I lived in North Vancouver, BC, we presented our Thelon River slide show many times throughout the Vancouver. Probably more than 30 times. Far more than any of our other slide shows. As you can see, we called our slide show "Three Seasons in the Wind." One time a person objected to our title. Somewhat disdainfully he pointed out that we weren't actually there for three seasons. You be the judge:
Our chartered Cessna 185, from Fort Smith, landed on Lynx Lake, near the river's outlet, on June 28. Ice still choked most of the lake's surface. Red-pink mats of alpine azaleas revealed the buds of a new Arctic spring. From the moment we paddled through the outlet, wind became our constant companion and adversary throughout our journey. Thirty-seven days later, on a cobble beach below Aleksektok Rapids, we lingered silently over our last breakfast on the river. We harvested blueberries, loaded the canoe, and paddled the final 80 km to Baker Lake beneath rainy, somber, fall-like skies. I call it "Three Seasons in Wind." It's my story. I can do it if I want.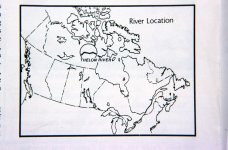 Most of what I am going to post here is from our journals. I will try to reduce the material to keep it appealing. Kathleen and I had never heard of the Thelon River until 1991. Yet, for the past 18 months, I have been absorbed by its lure. The river consumes all my free thoughts. Several logical and emotional reasons explain my fascination with this largest river in the Northwest Territories flowing into Hudson Bay. Since 1986, after my first trip north of 60 degrees latitude, I have been intrigued with Canada's northern landscape, particularly the Barren Grounds. Historically, this limitless region north of tree line created awe and fear in the few Europeans who penetrated its frontiers.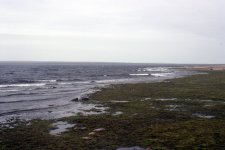 "It is a land uncircumscribed, for it has no limits that the eye can find. It seems to reach beyond the finite boundaries of this earth. Brooding, immutable, it showed so harsh a face to the first white men who came upon its verges that they named it, in awe and fear, the Barren Grounds." - so wrote Farley Mowat, in his book "Tundra."
The Thelon River provides one of the longest wilderness canoe trips available in Canada, traversing 950 km (590 miles) between the sub-Arctic forest east of Great Slave Lake to Baker Lake, at the head of Chesterfield Inlet. Along the way, the canoeist encounters several portages and three large tundra lakes. Native peoples hunted and fished along the water's edge, leaving behind stone Inukshuks as reminders of their vibrant existence. An isolated stand of spruce trees shelters the graves of John Hornby, Edgar Christian and Harold Adlard, who struggled poignantly before they starved to death during an unforgiving Barren Grounds winter of 1926-27. Meandering between 62 and 64 degrees north, the Thelon blesses the summer canoeist with nearly constant daylight. The river's middle section flows through the Thelon Game Sanctuary, home to approximately 2000 muskoxen, which still graze freely on the Barren Grounds, as they have since the great glaciers melted 6,000-10,000 years ago. How could there be a better trip in Canada? How could one be a Canadian and a canoeist, and not want to paddle the Thelon?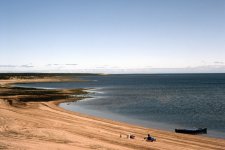 Kathleen and I have chosen to paddle alone down the Thelon River primarily to experience and to appreciate the loneliness and the vastness of the Barren Grounds. We want the Barrens to surround us - - to envelop us - - to embrace us. We desire to understand the words of Saltatha, a Yellowknife Dene, responding to a 19th Century missionary:
"My father, you have spoken well; you have told me that Heaven is very beautiful; tell me now one more thing. Is Heaven more beautiful than the country of the muskox in summer, when sometimes the mist blows over the lakes, and sometimes the water is blue, and the loons cry very often?"
This magical solitude of the Barren Grounds is likely best absorbed in the quiet, private reflection of our own company.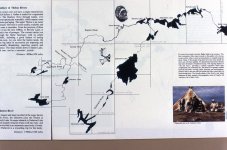 The Thelon River is divided into three major sections. The first, from the outlet of Lynx Lake down to the confluence with the Hanbury River, contains most of the rapids and portages. The second section, from the Hanbury River down to Beverly Lake is pretty much all Class I. This is the section that most people paddle. The third section crosses three large lakes down to Baker Lake at the head of Chesterfield Inlet on Hudson Bay. Most paddlers take out at Beverly Lake to avoid the common and strong winds. Our four-page brochure produced by the Canadian Heritage Rivers indicates that the "wise canoeists get out at the lakes." Kathleen and I were not wise.
Now comes some lengthy stuff about trip preparation. Hope you find it useful and interesting.
The Inuit of the open tundra named the Thelon "Ark-i-Linik," or "wooded river." This historical name held promise that we would be able to find firewood for cooking as we pass through the Barren Grounds. We had also read that oases of spruce forest line the river's banks from Lynx Lake to Beverly Lake. Nonetheless, we felt very uncomfortable embarking on a Barren Grounds trip for the first time, not knowing if there would be sufficient wood for meals and washing. We had decided to take two one-burner backpacking stoves, with the extra stove providing an additional burner, and emergency back-up if the first stove malfunctioned. The "burning" question plagued us for weeks. How much fuel should we take? Too much would mean needless weight and bulk on the portages, but too little fuel put us at risk of eating cold, unpalatable food.
We decided to experiment on a snowy day in February. Air temperature equaled only 4[SUP]0[/SUP] C, which I hoped would simulate the coldest weather that we might encounter on the Thelon River. For our trial, we prepared a sample day of meals, including four boiled pots of water for tea and soup, one breakfast bannock, and one dinner. To create even more realistic conditions, I filled a small pot with water, wedged the pot into a snow bank beneath our back yard maple tree, and waited for 30 minutes.
The first pot of water boiled in 6 minutes, at near full power. Approximately 1 additional minute was lost to wind-screen fiddling and pumping a stubborn flame into life. To the second pot of water, I added a little snow for special effect. A more prolonged boiling, to kill potential bacteria that might infest the Thelon River, required seven minutes.
We then decided it might be more fuel-efficient to boil large pots of water. I now poured twice the amount of water into our biggest pot. Two full pots boiled in a total of 17 minutes, and provided enough water for tea, oatmeal, and washing. Bannock averaged 23 minutes to cook to a golden brown on both sides. The spaghetti dinner consumed 27 minutes of fuel.
These 67 minutes did not deplete all the fuel in the stove, meaning that we could supply more than one day's needs with a single filling. Our Coleman Peak 1 holds 335.3 ml, and is rated to burn one hour and 15 minutes at full power. If each day required a full stove, we would need 14 litres of white gas for the 42-day trip. Because we needed less than one stove per day, we decided to take two 4-litre cans of white gas, plus three 1-litre fuel bottles and two filled stoves for a total of 11.7 litres. We also assumed that some wood would likely be available for the first three weeks, until we reached the true tundra at Beverly Lake.
Kathleen did all the food preparation. Her words are presented in italics.
Food has literally consumed my thoughts for these last six months before our trip begins. The caloric and nutritional values of food obviously assume paramount importance for our expedition. Food also brings enjoyment and comfort, which are vital for our emotional well being. This is especially so on the extended wilderness trip ahead of us, where so much is unfamiliar.
At first I thought only of the big picture. What general attributes would our food need in the context of this trip? We expect a small supply of wood on the Barrens; our menus, therefore, should require minimal cooking at mealtime. Space in the canoe is limited; the food must be compact and as light as possible. We intend to take 42 days of meals - - variety in size and shape as well as in the ingredients themselves is needed to maintain interest and enjoyment.
Next I began to compile a plan for the dinners. I read and re-read menus and tips recommended in backpacking cookbooks. Over several months, I prepared sample meals, dried them, rehydrated them, and heated them to test their suitability. I noted the amount of each ingredient required in dried form.
I generally achieved my best results by preparing and drying each ingredient individually. I then combined and packaged these ingredients together to form complete meals. To develop the best spicing for our riverside dishes, I experimented with packaged sauce mixes. My shopping trips to the grocery store lengthened as I read the ingredients and instructions of gravy mixes and spaghetti sauces. Eventually I was rewarded by finding a spaghetti sauce that could be prepared without adding tomato sauce. One less ingredient to dry, package and portage!

I learned that almost any meal normally prepared at home could be adapted for our trip, and that thin uniform pieces of food dry and rehydrate best. Ground beef provides an excellent base for many meals, including chili, meat sauce and shepherd's pie, and is very easy to dry in the oven.
With experimentation now complete, I chose 7 recipes, each of which will be repeated several times throughout the trip: chili, shepherd's pie, Moroccan chicken stew, Szechuan stir fry, spaghetti, beef stew and baked beans. To complete these menus I added cornbread to the chili, dumplings to the beef stew, rice to the stir-fry, and coucous to the Moroccan chicken stew. The variety of textures in these foods, such as shredded beef and carrots in Szechuan stir-fry and the large slices of carrots, potatoes, parsnips and beef in the beef stew, will maintain interest and enjoyment throughout the trip. All these foods will be completely cooked before drying, which fulfills the requirement for fuel efficiency.
I want our lunches on the river to be hot, easy to prepare, and quick to eat. Cup-of-soup and Japanese-style noodles provided perfect solutions. Both can be prepared with water boiled at breakfast, and then kept hot until noon in our thermos. Crackers with peanut butter and cheese and bags of jerky and dried fruits will complete our lunch menus
.
Breakfast menus proved easier than lunch or dinner. Oatmeal is quick, and hot. Bannock with butter and jam will give us the feeling of eating fresh bread. I included granola for those meals that we might want to prepare and eat quickly, such as on rainy mornings, or at the end of particularly difficult days.
Dried foods all lack fat. For lunch, especially on cold days, I've included fatty sausages for added calories. Chickpeas in the chili, and dried figs and prunes add fibre to our diet. To ensure our nutritional health, we will also take a daily multivitamin to complement the vitamins contained in our dried fruits and vegetables.
I also added extra treats to the menus. Dried bananas and pineapple rings, with or without a sugar syrup dip, produced candy-like results. I experimented with different kinds of crackers to complement peanut butter or cheese for lunch. Graham wafers kept well, without crumbling. From the deli, I acquired small cocktail breads to add variety to lunches.
I purchased a small food dryer to use in combination with my kitchen oven. The oven worked best for ground meats, tomato leathers, and vegetables cut in small pieces. Jerky and large slices of vegetables de-hydrated best in the food dryer.
I prepared a master list of all ingredients that we would need for all our meals. During each visit to the store, I purchased some beef for jerky, or ground chicken or beef for drying. I also bought vegetables and fruits to place into the food de-hydrator. Slowly, our freezer filled with neatly packaged bundles of dried food.
Once the provisions were purchased and prepared, I faced the task of packaging. While Michael travelled to Kenya on business for three weeks last month, I spent most of my time packaging food. I gathered together my recipe lists, measuring cups and spoons, ingredients, bags for packaging, and paper on which to write instructions. Soon, one of the distinct meals was ready, followed by a second, then a third. I made 44 recipes of bannock, and packaged each in a plastic bag closed with a twist tie. Supplementary foods such as milk powder, sugar and flour were packaged separately.
I especially enjoyed making our gorp snacks. At a bulk food store, I bought a couple of pounds each of nuts, raisins, yogurt-covered raisins, M&Ms, pretzels, sesame sticks, and Licorice Allsorts. At home, I mixed these ingredients in a large tub before dividing them into 84 little, separate, plastic bags.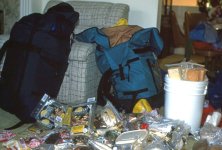 A mountain of food now lay in the centre of our living room floor. To this heap, I finally added the perishables -- cheese, margarine and sausages. Would this all fit into the packs? Have I forgotten something important? In less than a week, we will leave Vancouver for Fort Smith and the Thelon River!
June 20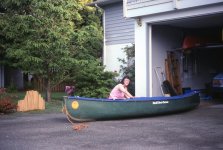 For several months I had been mildly concerned that our canoe's centre thwart/carrying yoke may need some repair. I had always assumed, though, that the bolts securing the thwart to the gunwale had merely loosened - - that I would need only to tighten the bolts. On inspection, however, the wood through which the bolts passed had nearly rotted away. The yoke would have failed on the first portage!
On Monday morning, 9:00 am, I placed an anxious call to the canoe store. "Do you stock carrying yokes for Mad River Canoes?"
"I'll ask," came the reply from someone who didn't seem to know what a carrying yoke was. Five hours, or perhaps only five minutes later, the tentative voice returned with news that one carrying yoke was available. Ninety-six minutes later the yoke rested snugly in place on our canoe.
We didn't know if the gear and food fit until two days before leaving. We were now ready for the trip physically, but we were apprehensive about the area, because we didn't know anyone who had been to the Thelon River or to the Barren Grounds. I thought about how nice it would be to stay home, to sit comfortably surrounded by my flowers, and enjoy the long summer progression into fall harvests of tomatoes, sweet peas, and aromatic herbs. Our Thelon trip will take us away from all these domestic pleasures, and thrust us into rapids, hordes of biting insects and potentially life-threatening winds on Aberdeen Lake. Schultz Lake outlet may still be blocked by ice. Aleksektok Rapids may be filled with crashing blocks of careening ice, as described in Chris Norment's book "In the North of our Lives."
I empathize with Bilbo Baggins. Kathleen and I are really a Hobbit couple, happiest at home with our cakes and teas. Like Bilbo and his friends, though, we are invariably drawn, against our wishes, into journeys and adventures through unknown lands.
June 21
We have just finished our "last" supper -- barbecued steaks in the back yard. We're watching our last Atlanta Braves baseball game on TBS until mid-August. Tomorrow morning, we'll be on our way to begin the biggest adventure of our lives together. All our food is ready and packed. All our gear fits in the canoe, even with the spray cover snapped in place. Even so, I don't feel completely ready, and I have very mixed emotions.
Mom and Dad have been very good about this trip. Despite their worries and concern about us, they have shown real interest and enthusiasm. We gave Dad maps and the itinerary of our Thelon River journey, and he plans to plot our daily route. Today, they stopped by with lunch from MacDonald's, plus treats of candy, gum, nuts and cheese for us to eat on the way to Fort Smith. Displaying his Victoria naval tradition, Dad requested an official inspection of gear. I hope they felt reassured by seeing the first aid kit and all the provisions that we have prepared for the journey.
As they said good-bye for the summer, I silently wished I too were staying home to follow our itinerary on the maps. I would enjoy hearing all about the river quest, once it had been safely concluded. At the present moment the security of home exerts a stronger pull for me than the adventure we have been planning for 18 months; but I know, not too deep down, that I truly desire a first-hand experience of the Barren Grounds.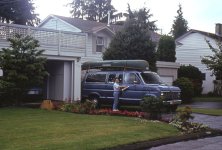 June 22
As we drove away, we wondered what the Barren Grounds be like for us. Would they be harsh and unforgiving, or would they be a comfortable home? Leaving Vancouver, we were anxious to reach Fort Smith, the real beginning of our trip. We were impatient to complete the 2,300 km (1,425 miles), 5-day drive. But this was a very important part of the journey. We needed time to separate from our lives in Vancouver.
Last edited: