Joined

Feb 1, 2013
Messages

3,771
Reaction score

1,339
Location
The yearly decision about what routes to open up was a long and prolonged discussion this year. Chainsaw Rob and myself had many ideas, but in the end, we decided that with gas prices being so high, we would try to stay close to home.
We had already opened up one canoe route from Geraldton to Longlac, following the Kenogamisis River system. However, upon reading old surveying reports from the early 1900's, it became apparent that the route commonly used as a connection to Long Lake was the Burrows Lake and river system. We had run that system once with the Outers Club, but had neglected to cut any ports, as we had experienced white water paddlers with us.
The route we put together is actually quite beautiful, with large lakes, nice campsites, great whitewater, and good fishing. It could range anywhere between 2 to five days, depending on the amount of loafing and fishing one wanted to do.
The route starts on the natural gas pipeline access road, about 10 kilometers NE of town.
A small, tortuous creek winds its way over 2 kilometers to an old pipeline road. At that point, the first portage begins. We walked the road for about 200 meters and then cut into the bush and proceeded to cut for approximately 600 meters to the bottom end of Alfred Lake. We had opened this port up over ten years ago, but that is a long time up here, and it had basically disappeared again. A 15 k paddle then brings one to the bridge at the bottom end of Burrows Lake. However, we chose to drive up instead of paddling, and put in at the culverts on the Lake.
Burrows Lake at the culverts.
It was a beautiful, windless day, something that doesn't occur up here very often, and we prepared for the 20 K paddle to the bottom of Manitounamaig Lake where the portage cutting would begin.
Burrows has several beautiful camping spots on it, the prime one being on a large sandy point, about 5 k's from the culverts. Manitounamaig Lake also has several beautiful sites on it, but they are all of the rocky/cliff/boreal type. We stopped at one to check it out.
The first port of the trip is at the bottom of Manitounamaig Lake, at a steep drop that enters the Burrows River. Several years ago, at high water, we had shot these rapids.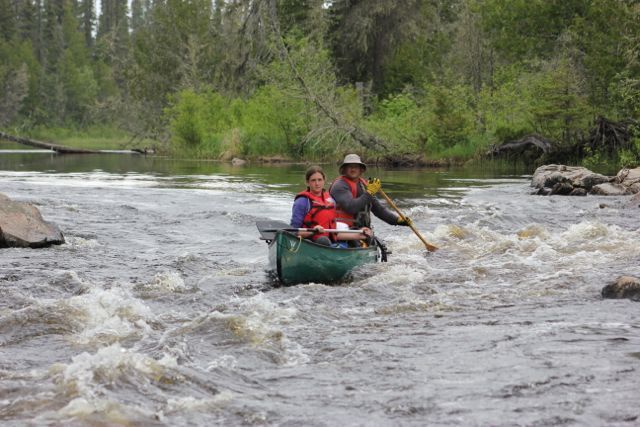 This is a shot from 2013 as Chainsaw Rob and one of our fearless outers entered the rapid.
We scouted the area, and discovered that at one point, it must have been a bush camp for the log drive. There were lots of old artifacts around, and large clear meadows, full of wildflowers.
We strung together a trail, and did some cutting and then called it a day. There are very few places to camp on the river, and we knew we had a tough couple of days ahead of us, so we just chose flat ground close to the water. It was a bughole of the worst kind, and we experienced mosquitos that w legendary in amounts and ferocity.
Bughole site
Beginning of new port, which ended up being just over 700 meters.
The next day, we started off in rain for the next port. We knew this one was going to be difficult, as it was a long set of rapids, and there was no port around them. It turned out to be a very difficult task, took us the better part of a day to flag the best trail, then cut it.
Getting ready to establish second port.
Overview of the river
It was time to call it a day after that workout. There were still two ports ahead of us.
The next day we proceeded down the river, and came upon an overturned 12 foot boat, which struck us as kind of spooky. If we had more time, we might have looked under it, but we weren't particularly interested in dead-body-detail, so we passed by.
We knew that the next port could be very bad as well. The bush was thick and the rapids were long. However, upon examining river left, we found an opening and went to shore. It was an old moose camp with an ATV trail.
We followed the ATV trail with the gps running, until it came close to the river, then we cut a port from the trail down to the river. This save us a lot of work, and the trail, although long, is an easy walk now. We shot the rapids, and I remembered how they had been at high water in 2013.
Big John and Kate shooting the rapids in 2013.
The next obstacle was a blown out bridge. I remembered this as a straight forward run, with large haystacks. The pictures below from 2013 show the kind of ride it gave.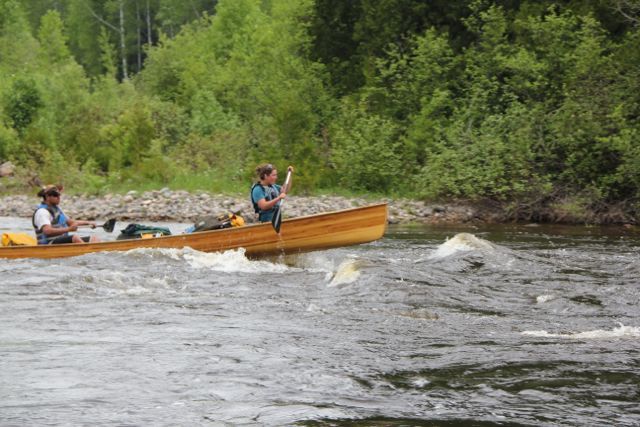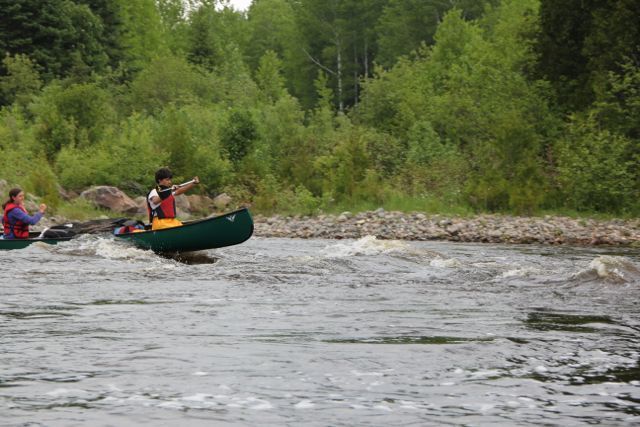 With lower water, it was still a good rapid, but more technical, with a couple of tight turns. No need for a port here, as people who didn't want to run it could easily drag around the bridge.
The last port of the day was a short one of 165 meters, but basically all new cutting again. The rapids the port went around are very large and fairly technical, I have never shot them, but I am sure a younger more adventurous person could run them.
After finishing up, we paddled the six k to where we had left our vehicle parked, at a point on the reservoir where people leave their trailers during the summer.
Here are a couple of expanded views of the ports around the rapids.
This is a really nice trip. All the white water can be shot by experienced people, but there are ports for those who don't want too. You can paddle all the way back to Longlac, or get out where we did, 10 kilometers up the Blueberry road. If you were a real bugger for punishment, you could paddle a few k down the reservoir and go all the way back to Geraldton on the Kenogamisis river, upstream.
Might open up some more later this summer, Chainsaw Rob is ready to go, I'm still nursing the covid.
Last edited: