Joined

Oct 29, 2019
Messages

428
Reaction score

487
Location
I previously posted a request for information about the Whitney Wilderness Loop. I headed north from PA to try out this area for the first time Sept. 24th-26th. My intent was to drop my canoe on Little Tupper Lake, drive to Low's Lower Dam and leave my truck, then bicycle back to LTL to start my trip. Having never been to that particular ADK location, I drove north on Rt. 28N planning to take a look at the put-in on Little Tupper Lake. Then I drove out Circle Rd with the bike shuttle scenario in mind for a future trip. I had decided since heavy rain was in the forecast, I didn't want my first Whitney trip to be a rainy, slogfest so I continued north to the St. Regis Canoe Area where I knew my way around.
My first day I put in at Hoel Pond, and paddled Turtle Pond- Slang Pond- Long Pond-and Mountain Pond with it's not easy carry just so I could say I paddled Mountain Pond! I camped at a poor site just uphill from the put-in at Mountain Pond then paddled the length of Mountain Pond- about a 5 minute paddle!- and along the way I spied a lovely small campsite on the north shore. Should have stayed there, as it had a very nice fire ring and view of the pond, though the tent pad area was tiny.
The following morning I packed my gear and left the pack with the canoe, and continued up trail to the summit of Long Pond Mountain.
Mountain Pond; my campsite was uphill to the left.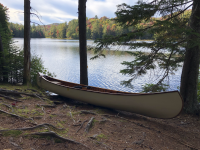 Atop Long Pond Mountain: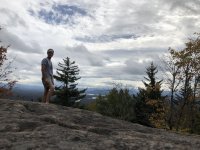 After the hike down to my canoe and gear, I loaded up and single carried (all downhill) back to Long Pond, then visited Pink Pond which was a lovely diversion from the larger waters. Then, fighting headwinds most of the way headed back to Hoel Pond via Slang & Turtle. I camped on the north shore of Hoel Pond which is actually out of the St. Regis Canoe Area, on a high, rocky bluff for a windy and cloudy evening- no rain to speak of though. That evening was so windy I needed to tie my canoe to the tiny landing area for fear of losing it!
My dining room: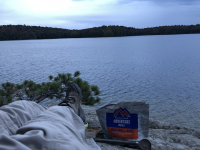 The following morning I was greeted by a small gale which made crossing Hoel Pond to the take-out thrilling. I knelt to keep my weight down and quartered the wind-driven waves so I was sort of ferried across, paddling madly, and mostly losing ground until I reached the wind shadow of the trees on the other side where I then made up the lost ground.
That same day I drove over to Little Clear Pond and launched-again into the wind- paddling over to the carry to Grass Pond; new territory for me. I landed just ahead of three young guys- 2 in a tandem and 1 in a little homemade 12 pound skin-on-frame canoe. I double carried to Grass Pond in a very respectable time which impressed my young friends, and quickly launched into Grass Pond and over to the carry to Little Long Pond (east) before those guys re-appeared at the end of the Grass Pond carry. I was pretty proud of my old self! Little Long Pond is a lovely spot with several very nice campsites. I will re-visit here for sure. I hiked the carry to Bear Pond, though didn't bring the canoe. At the portage a sign was posted warning of several reported raccoon attacks! I carried my paddle along with which to defend myself.
Along the way, Stump Puffballs (Lycoperdon pyriform): quite edible when young, with firm white inner flesh.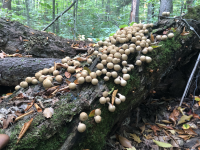 Heading back through Little Long Pond into Grass Pond I took the very short, level carry over to St. Regis Pond and camped on a point anticipating the predicted heavy rain that night. Tarp and tent for total protection, and anticipating tea & honey for after dinner: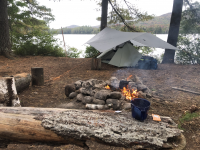 The rain finally came along with darkness, and was a true deluge. I had chosen my tent pad carefully to be both reasonably level and 'crowned' so that surface water would drain away on all sides. In the morning there was evidence of several rivulets of water which had passed under my groundsheet, but I stayed dry.
The trip out the following morning was clear and pleasant with lovely misty views of the outlet of the pond and the wooden carry landing for the carry to Little Clear Pond. On that carry I was pleased to be complimented on both my wood/canvas canoe and my portaging efficiency. I think some young people are amazed to see an older guy managing by himself.
The south bay of St. Regis Pond: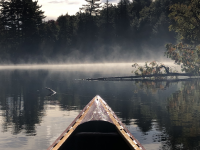 St. Regis Mountain from the south bay: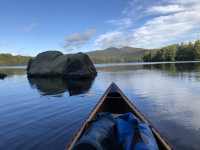 The landing for the carry to Little Clear Pond.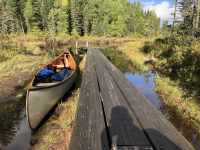 Great trip, maybe Whitney Wilderness next time!