I am going to be paddling a Colden Dragonfly this summer and it does not have a portage yoke to go with it.
I have purchased this:
Universal Portage Yoke
Using it as is, the canoe is so far above my head that I can't balance the canoe at all. So, we removed the center block which brought the canoe down to where I could balance it, but there was still enough room for me to put my head up straight.
But...the shoulder pads are hard and sharp on my shoulders. I have small bones, narrow shoulders. I have to move the shoulder pads actually onto the curved part of the yoke to make it sit on my shoulders and not be falling off.
So, I cut a couple pieces of old memory foam mattress and tied them onto the shoulder pads. This actually works. Except I suspect that the foam will not hold up for a long trip. Indeed, one block already split. I have been trying to think of what I could sew or glue around the foam to make it a bit sturdier. Whatever the material is, it has to be sturdy enough to withstand the trials of multiple and long portages, but soft enough to preserve the benefit of the molding capability of the foam.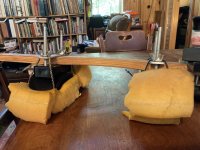 Suggestions greatly appreciated!
The other issue is a question. Here is the yoke installed on my Mohawk 13. I think you can see that the clamp does not fit onto the gunnel squarely. Does that matter? It seems to me that as tightly as I can screw down the clamp, it is still not firm enough to hold if lateral force is applied. I don't know if this will be an issue with the Dragonfly or not.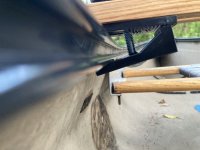 Thank you, all, once again.
Erica