Joined

Mar 21, 2015
Messages

435
Reaction score

17
Took my light SOF build out on a new creek the other day, and created a bit of a pickle.
The creek I selected is a little pushier than what is normal in my area, due to an unusually high rate of drop.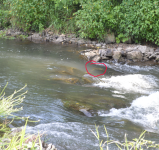 I tried to run the pictured riffle, and you can see the results below. (Stream is 25' wide at this point, the ledge itself is about 18" high)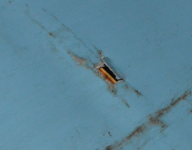 This is the worst of 4. Hit the middle four frames right in succession. left-down is forward on the hull.
I suspect that a hard-shell hull would have slid right off with not much more than a cosmetic scratch, but I'd rather avoid the run-in entirely.
1. I did (try to) scout. The circled area is
not
where I would have chosen to run, but current kicked me over at the last minute.
Any thoughts (other than "practice" or "try not to do that?")