Joined

Aug 1, 2023
Messages

22
Reaction score

55
Location
I realized I just started posting and never properly introduced myself, so hi! Belatedly.
I grew up along the Connecticut River in Vermont and New Hampshire (the Upper Valley area, as it's known locally), spent a couple decades living on the west coast, and moved back to Vermont a few summers ago. Been canoeing since I was a little kid. Went to one of the canoe camps for a summer, hated how militaristic and uptight it was, but learned some good skills. Started canoe tripping and white water paddling in my early 20s, but then mostly took a break from canoeing while living out west, aside from the occasional day trip or vacation paddle. Now that I'm back in a place with easy access to good paddling water, I've been getting back into it. Made do with a beater OT Discovery 158 for a couple of years, then bought a Northstar Northwind 16 from Umiak Outfitters at the beginning of the summer. Which seemed like the canoe of my dreams, and is absolutely wonderful, but it turns out my dreams are bigger than just that boat.
While living out west my focus shifted to ultralight backpacking in the summer and backcountry skiing / ski mountaineering (the non-spandex variety) in the winter. Now that I'm focusing on canoe tripping again, I'm having to relearn and adjust some of my camping habits. So expect some questions along those lines.
Another lifelong interest that I've picked back up is ice skating. I've become quite passionate about nordic skating, and am quite active in that community. It's really fun to experience the lakes, ponds, and rivers year round, in such complementary but distinct ways. In my 20s I did a couple of winter trips with the Conovers, hot tent + toboggan style. Since then my winter camping has been more in the mountaineering style, but I'm hoping to get back into hot tenting this winter. I'd love to combine hot tenting and nordic skating once the canoe season ends.
I adopted a couple of dogs last summer, named Rio and Tokio. Mom and pup. I've been slowly accustoming them to canoeing and to camping. It's going well overall, aside from the occasional catastrophe. Here's the two of them on Long Pond, up in Benton, New Hampshire: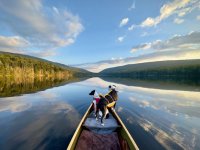 I'm glad to be a member of this forum; it's really a remarkable resource and a wonderful community. Everyone's been so helpful and friendly and welcoming. I'm looking forward to contributing more!
Chris
instagram.com/catamounthardware
catamounthardware.com