I was cycling through Bladensburg Waterfront Park yesterday when my eye fell on a dumpster full of boats. Mostly plastic kayaks, but that's a Disco 169 on top, cut neatly in half.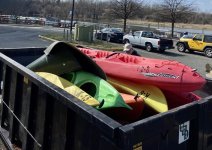 A park employee in the area saw me eyeing the dumpster and assured me the boats were all too far gone to be repaired. Obviously he'd never seen the wrecks I have resurrected.
The Disco looked like a classic for a gflex advertisement. Aren't they the ones who had an ad in which they cut a boat in half and glue it back together?