Doug that was awesome, beautiful area too, wow. I was waiting for you to bust out the flyrod tho
Mem, I couldn't say this design is fast, but digging in I've clocked it to 6mph and change with a pretty good load. It does feel as though it cruises well with steady effort if that makes sense, which is probably the whole idea behind the Kruger Sea Wind from which this build was inspired or copied perhaps.
If you stop paddling for a second or two at pace it doesn't seem to loose much momentum. I don't have any experience in a Sea Wind or Monark or any other expedition type canoe, but this North Wind seems like a very good performer to me.
In terms of clocked speed here's a gps track from that trip we got out asses handed to us. This was where Tom (seasoned WaterTriber in Savage River Falcon) and I decided to do a friendly race around an island in the river. For some perspective this was after paddling about 20 miles for the day and against about a 1 knot current. My distance on the right fork was 1.0 mile, Toms was 1.1. I paddled about as hard as could and got to the intersection first by at least a minute, which probably accounts for the tenth of a mile farther Tom had to paddle. Other than some water and a couple beers I had the same load I started with, est 50-60lbs plus my fat ass at about 215lbs. Peaked at 5mph and averaged 4.3mph. Attached is the GPS track log and the track imported to GE.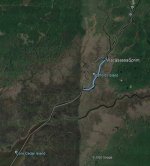 Last edited: