Administrator
Staff member
Joined

Oct 24, 2012
Messages

4,305
Reaction score

2,275
Location
Dave Curtis, the current owner of
Hemlock Canoe Works
and the former owner of Curtis Canoe, has contacted me to help publicize his desire to retire and sell the Hemlock Canoe Works business. He and his wife Carol explain their goals in their attached letter, which has all their contact info. Note that Dave and Carol are willing to help train a new owner in all aspects of the business during a transition period.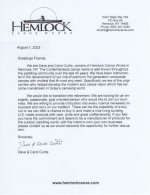 Please help Dave and Carol distribute this announcement as widely as possible. You may, for example, link this thread to other internet forums or social media sites you participate in, or further distribute Dave and Carol's letter electronically.
Dave Curtis, now in his early 80's, is the last remaining manufacturer of the solo canoes that instituted the "Solo Canoe Revolution" in the U.S. in the 1970's, along with other legends such as Patrick Moore, Mike Galt and Phil Siggelkow. In my opinion, the canoe world will be impoverished if someone doesn't step up to continue the Hemlock Canoe business.
Let's all do what we can to help Dave and Carol get the word out about this business opportunity!