Joined

Sep 5, 2016
Messages

163
Reaction score

85
Location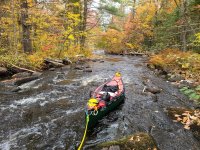 "Travel by canoe is not a necessity, and will nevermore be the most efficient way to get from one region to another, or even from one lake to another anywhere. A canoe trip has become simply a rite of oneness with certain terrain, a diversion off the field, an art performed not because it is a necessity but because there is value in the art itself." -John McPhee​
I love John McPhee, but I generally disagree with the above quotation, as do many of my fellow canoeists in Maine and up into Canada. We know from firsthand experience that a canoe is often the most efficient way of moving through parts of the backcountry, but on my most recent trip, a canoe was certainly not the most efficient means of travel. There were some nearby fire roads, and the Appalachian Trail paralleled some of my route. So why did I undertake the trip by canoe? In part it had to do with "because there is value in the art itself," but it also had a lot to do with history…and a challenge, but more on that in a bit.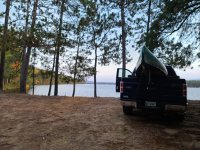 The trip began in familiar territory for me at the put-in on the peninsula between Turkey Tail and Middle Jo-Mary Lakes south of Katahdin in the North Maine Woods. I had
been there last October at almost the exact same time
, but incredibly low water dashed my plans to travel from Middle Jo-Mary to Lower Jo-Mary by way of Cooper and Mud Brooks. This time, however, my objective was not Lower Jo-Mary; rather it was a small Pond due west of the northern end of Middle Jo-Mary called Cooper Pond.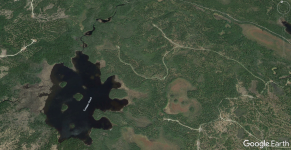 I'd became fascinated (maybe even a little obsessed) with Cooper Pond this past winter. In researching the area for
the short film I made about last year's trip
, I came across Bill Geller's excellent book titled
Within Katahdin's Realm – Log Drives and Sporting Camps
. In that book, he chronicles some of the history associated with the Cooper Brook Watershed, and I knew I wanted to see this place for myself.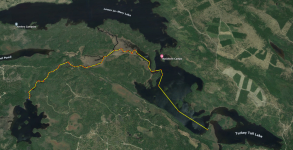 The objective of this trip was to cross Middle Jo-Mary and the Cooper Brook Deadwater and then make my way approximately three miles up Cooper Brook to Cooper Pond. I then planned to camp at Cooper Pond for a couple nights and explore by canoe and on foot looking for evidence of the area's logging and sporting camp history. This kind of trip is what I refer to as a "ghost hunt," and it merges my passion for backcountry travel with my love of history and storytelling. The Cooper Brook watershed was used extensively from the mid 19th century (c. 1835-1850) until the 1930s by the logging industry, and so I was keen to explore the stream itself for any sign of that history.
Learning about the history of the area also provided part of the motivation for the trip. It was a passage I had come across in Geller's book:
Dumas, who operated the sporting camp as a commercial enterprise, may be the only person who ever got a boat all the way up Cooper Brook to Cooper Pond. He did that by taking an old flatbottom boat, mounting an airboat type device on its rear, and skimming up.
Who doesn't love a good challenge, right!? In my mind, Dumas had thrown the gauntlet!
I left home in Midcoast Maine at around 3am and arrived at the put-in before eight. I packed up my 12-foot Old Town Pack canoe and was on the water before 9am. The passage across Middle Jo-Mary is about 1.7 miles to the entrance to the Cooper Brook Deadwater, and it was a beautiful, relatively still paddle with the sun at my back and views of Katahdin off my bow. The fall foliage was just reaching peak, which became increasingly obvious as I navigated into the Deadwater en route to the mouth of Cooper Brook, about three-quarters of a mile up the Deadwater.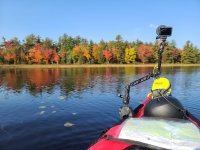 I had noticed at the put-in how much higher the water level was than the year before, but the Deadwater was almost unrecognizable. It was no problem to find the entrance to the Brook, as I paddled in deepwater just feet from where I had looked out over mud and rocks the year before. The flow was minimal as I made my way up Cooper Brook, and a tailwind propelled me along at a nice clip with beautiful views of Jo-Mary Mountain some five or six miles distant and beyond my destination at Cooper Pond. It's about three miles from the Deadwater to Cooper Pond, and I had no idea how much of that I was going to be able to paddle. The good folks at Buckhorn Camps had told me the water levels were "like springtime high," so I was hopeful, but I had packed light and chosen the 34-pound boat, knowing that at the very least I was going to need to track upstream and probably portage.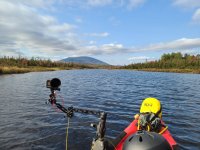 After around 0.6 miles, I passed the downstream confluence with Mud Brook and turned in a more west-southwest direction. Behind me, Cooper Brook flowed west and then southwest looping back to the Deadwater, while Mud Brook took a northeast, then north and then northwest course to Lower Jo-Mary. About 0.3 miles upstream, I reached where Mud Brook feeds in from the northwest, and I turned south-southwest, continuing on Cooper Brook. The Brook is wide here, up to ~150 feet across in places, and besides a few lurker boulders, the paddling is easy. To the north (to my right/river left), the terrain remained open and marshy, but gradually forest encroached from the south until eventually conifers closed in on both sides and the river narrowed.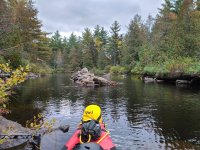 At 10:15am, about 0.7 miles after where Mud Brook flowed into Cooper Brook, I came across my first evidence of an earlier time in the form of cribbing in the middle of the stream that had previously served as a support structure for an old bridge. Less than 200 feet from the bridge buttress on river right (south) was Fire Road Three, which is the same road I had used to access the put-in. On the other side of the stream, there was no clear path, but Google Earth shows an obvious road in the mid-90s (although no bridge) proceeding north-northwest from the old bridge and crossing Mud Brook before it splits into two directions (generally northwest and northeast). Google Earth also shows another old road that roughly parallels Cooper Brook heading upstream on river left.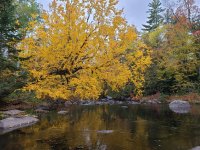 Not long after the old bridge (less than 300 feet), I came across a beaver dam, which was easy to move over. Shortly after this beaver dam, I'm greeted by a tree that overhangs the water, showing off the most stunning, golden fall foliage. As I'm admiring the beauty, I notice that the river is changing in character above. It's becoming shallower with bony riffles that soon necessitate alternating between paddling and tracking upstream. Eventually the stream, which had been trending northwest, turned due west and began to gain elevation in earnest. This was at about the 1.8-mile mark of the three miles of upstream travel.

About 0.3 miles after the turn to the west, I came to the bridge where Fire Road 3 crosses Cooper Brook. On the north side of the bridge (river left), the Appalachian Trail comes to within 50 feet of the trail, and I had planned this as my bailout point if the upstream travel was just too difficult. I remember reading here about another tripper who was exploring a nearby, seldom traveled stream (maybe Nahmakanta Stream?), who had used the AT as a portage trail. I seem to recall they did not recommend it, but it was good to know the option existed.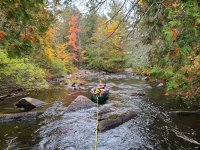 Above the bridge was a significant enough drop with a high enough volume of water that I elected to portage around it. I hopped on the AT and portaged about 0.34 miles (551 meters) to where the AT once again comes close to Cooper Brook at a point where the Brook is paddleable. I'd forgotten my portable yoke, so I did a double carry with my boat over my shoulder. By 1:30pm, after a lunch break, I was back on the water and paddling upstream.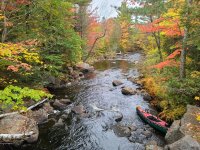 Unfortunately, the paddling bit didn't last long, and I began tracking upstream again until I came to another steep, high flow drop that required a portage. For some reason, I thought from looking at my map that the AT cut too far away from the Brook here to be an easy portage option, and so I portaged on river right…big mistake. This portage was short but epic in thick woods with lots of deadfall and many concealed holes. It took me until almost 3pm to portage my boat and all the gear and reload everything to continue upstream. Had I chosen to use the AT for this portage, I would have spent a fraction of the time. Alas.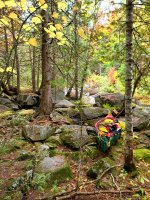 Cooper Brook once again widened, and I was able to paddle interspersed with sections of tracking and pulling over beaver dams and obstructions. Finally, at a little before 4pm, I saw that the trees were opening ahead and soon I was making my way up and over the rocks and into Cooper Pond. Roughly 5.5 miles in seven hours wasn't breaking any speed records, but I did feel a sense of accomplishment, and I was very happy to have reached the absolutely gorgeous little pond.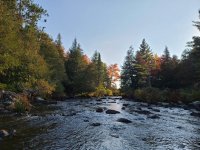 Cooper Pond is a smallish pond—it's just about a mile from the outlet at the north end of the pond to the southernmost point. The AT runs along the NW side of the pond about a tenth of mile from the shoreline with no terribly easy access of which I'm aware. There is one camp on the southwest side of the pond. It's actually the site of a historic camp that was built in 1904 and was once associated with Buckhorn Camps located on Middle Jo-Mary. It's now private, but there is one historic structure there. Unfortunately, in 1976, the main structure, a portion of which was built in 1904, was accidentally destroyed by fire, but the "cook shack," which which was built in the 1950s remains. I'm not sure if there is a road into the camp, but it's only about half a mile from the Jo-Mary Road. I know that back in the day, it was common to access the camp via float plane from Buckhorn on Middle Jo-Mary. Also people would travel between Buckhorn using the AT and a couple of spur paths.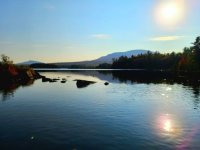 Anyway, once I arrived at Cooper Pond it was time to make camp. I had my choice of two fairly large islands and one small island on which I could camp (it's all dispersed camping, as there are no "established" sites). There is a fourth island behind the larger island in the middle of the pond and a fifth much smaller island toward the south. After scouting possible campsites, I elected to camp on the southeast shore of the largest island, which is pretty much in the middle of the pond. There was evidence of a campsite—a roughly cleared area with an old fire ring. I guessed the site was used by the people who own the private camp situated on the pond's southwest shore, as I don't think there is another easy way to access Cooper Pond with a boat. The island doesn't really have any open spots near the shore, so most camping is under a pretty good canopy, but there are some rocks on which you can sneak out to have your coffee/cocktail in the sun.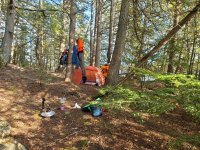 The next day I dedicated to my "ghost hunt," and I'll leave that out of this trip report (wait for the short film!), but I did paddle most of the shoreline. In addition, I pushed up the inlet of Cooper Brook through a large swath or marsh mazed by various channels and punctuated by beaver dams. I also explored a possible portage into Duck Pond, which is about 0.6 miles southeast from the southernmost point of Cooper Pond. In the back of my mind, I had been thinking about doing a loop that would take me from Cooper Pond to Duck Pond, then down Duck Brook to Upper Jo-Mary and then down the stream to Turkey Tail and back to my truck on Middle. I explored a couple possible portage routes to Duck Pond, and they were all atrocious! On top of that, I didn't know what Duck Brook would be like, but I could see it being a challenge, and I was worried I didn't have enough time if it was really slow going.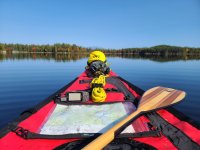 The wind picked up in afternoon, so I headed back to my camp on the island at around 4pm and made some tortillas for a delicious quesadilla dinner with my new dehydrated salsa recipe filled with fresh garden veggies. I hit the sack early, expecting that the descent down Cooper Brook was going to be a long day.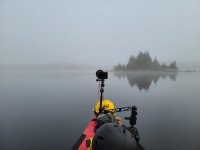 The next day dawned foggy, and the fog hung around until after I put on the water. The trip down Cooper Brook was actually not as bad as I'd expected, although it was certainly a lot of lining. I opted to portage about three-quarters of a mile on the AT this time (from a point about one-quarter mile below Cooper Pond to the bridge downstream). This combined both of my portages from the trip up the Brook and avoided the river right bushwhack portage from hell. I did miss out on a little paddling, but I saved time not unloading and reloading the canoe multiple times.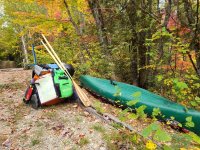 The wind was up by the time I exited the forest on Cooper Brook and paddled through to the Deadwater. When I rounded the point onto Middle Jo-Mary, there was a stiff breeze but no whitecaps. I crossed to the protected shoreline, and paddled to the take-out, arriving at about 3pm.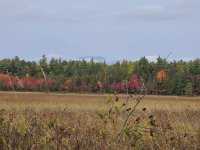 It was a good trip, although I don't think I'd recommend it…lol. I also am going to call BS on that fellow who claimed he made it up Cooper Brook by "skimming up" in a "flatbottom boat" with "an airboat type device on its rear."
So does that make me the first? ;-)
[I've posted a few videos from my trip to my Instagram account (@razorshins), and I'll post a link to teh short film here once the snow starts to fly and I have tiome to edit!]