Over the years I've tried a variety of possible plate/bowls and have found all of them wanting in some way or another. I've been using this dog dish as my personal camping plate/bowl for the past few years and it's the best one I've tried to date.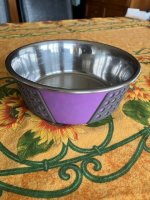 This dish:
is easy to clean (stainless steel),
it has rubber on the bottom and up the side so fingers don't get burned from hot soup or hot cereal and so it does not slide around,
it is deep enough to use for soup or a stew,
it is flat on the bottom so it stays put when I put it down on my lap or on the ground (note rubber on the bottom mentioned above).
because it is flat on the bottom it is easy to cut things that need to be cut,
it holds a generous portion (so you don't have to worry if there will be seconds - you simply take enough the first time to eliminate that concern,
it is inexpensive!
What more can a person want?
Note that if you trip with a dog, you may experience conflicts.