Joined

Jun 12, 2012
Messages

3,963
Reaction score

1,710
Location
I returned a few days ago from a week long solo canoe trip in northern Quebec. The area I paddled is controlled by the local Cree First Nations and from what I could gather they have set aside these two lakes for canoe tripping. The Cree organization goes by the name NIBIISCHII, the contact person is Amélie Lapointe
alapointe@nibiischii.com
(819) 460-3323. Everyone I talked to spoke French and sometimes communication in English was an issue. I asked about other routes and when the conversation started going south I just left well enough alone and headed to my put in.
The two lakes are located about 100 miles north of the town of Chibougamau, PQ on the Rt. du Nord. The last 20 miles of the road in requires a vehicle with some clearance, nothing serious but I wouldn't take a loaded Prius in there.
Two maps I was sent. I will post some more information/requirements at the end of this report.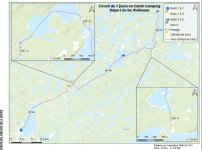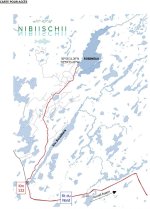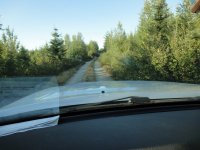 The put at Lac Robineau is located at a small hamlet of Cree cabins. No one was there but it was tidy and looked like a nice place for those folks to gather. I slept right there at the put in that evening, I had been on the road since 2 am the night before (680 miles due north from my home in costal mid Maine), sleep came easy.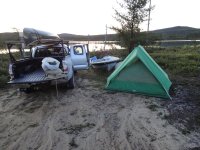 A few shots of the Cree village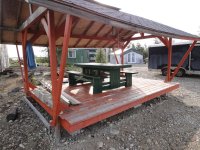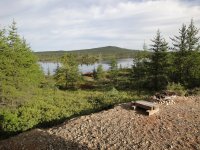 Well, my first two days of the trip where pleasant, calm winds, clouds/sun, very nice. Lac Robineau is about 7-8 miles long, then a small river of about equal lenght leads to the much larger Lac Canotaicane. There are 2 portages on this river, both pretty easy. I chose to line my canoe down the first set of rapids, about 350 meters, then carried around a nice falls for the second.
The trees up there seem to thin out in spots, really pretty. Unfortunatley, the bush grows right down to the water, no rocky outcrops like in Ontario so I was soon to find out that campsites where limited to the beautiful and abundant sand beach's.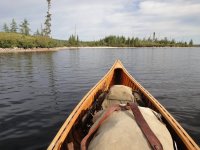 My fist campsite.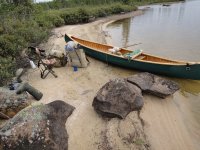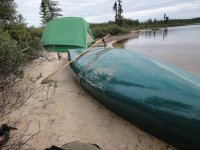 It was kind of sketchy, right there at waters edge.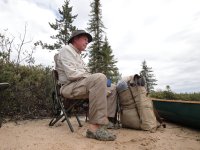 BTW, don't knock those crocks. I hated them when my wife brought them home but I'm a believer now. Not so great in sand, but I like them for around camp. My boots where soaked from lining the canoe down the rapids,
Just down the lake I found this nice beach the next morning. Who knew?
I don't carry any electronics other than a new to me SPOT X. I made some maps off the internet and tried to hi-lite the beaches on them with satellite pics from Google Earth. I guess I wasn't always accurate. I liked the SPOT X, sent a nice message to my wife every night, she usually responded with UGH! or "sunny here".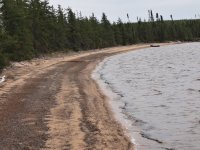 Sunday the rain started coming in, I paddled on with a nice little tail wind.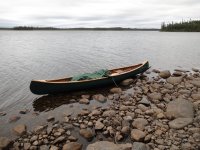 I had removed the rear seat in my "tandem" Chum before the trip. One of those "overthinking moments" during my pre trip plans. You know, save weight, more room. Totally unnecessary, plus I just like of the look of that canoe the way the Chestnut factory sent it out the door 70 years ago.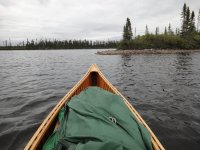 Sunday, my second day, the weather seemed to be changing and I really wondered if this campsite I chose for the 3rd night was going to be an issue. 3 things I learned about camping on a beach, 1. tent pegs don't hold. B. Your out in the wind, no shelter. 3. Hard to set up a tarp. and D. sand gets into everything. (little Home Alone humor)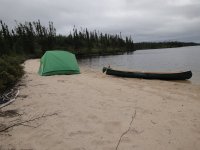 Well, a storm came in after dark and the wind/rain was like nothing I can ever remember experiencing in a tent. The tent held up till dawn but gave out when things got really out of hand. I managed to crawl out and save the poles from getting bent.
The next morning, in spite of the rough conditions I packed up and worked my way down the lake to a sheltered cove.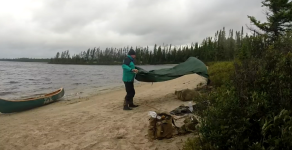 My friend calls this one "Dressed for Summer in Canada"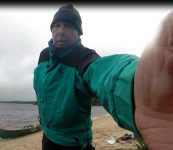 I call this one "worried look", paddling down that shoreline with the chance of being blown out into that big lake was a real concern of mine.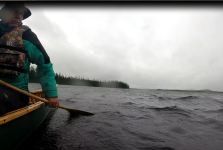 To be continued.