Joined

Feb 1, 2013
Messages

3,655
Reaction score

1,097
Location
The annual Opening Weekend Moose Hunt held great expectations this year. We were trying a new area, where we hoped that the moose were thick and the people were few.
The area around Geraldton is a Mecca for moose hunters, and thousands of people begin pouring into the area a week or two before the hunt begins. Every available Crown Land camping site with driving access is filled with campers, trailers and tents. From the south side of the Ogoki River to the north Shore of Superior, the bush bristles with hunter orange and a variety of beer cans and humans.
Last year we tried our luck on the Goldfield Road, about 65 kilometers from my place. When we arrived, we realized that there were around 2000 hunters within a 10 kilometer radius of us. The river that we had planned on canoe hunting was covered with an army of hunters from Southern Ontario. Then it snowed, and then rained. I had a few beers for a couple of nights and then went home and ate turkey.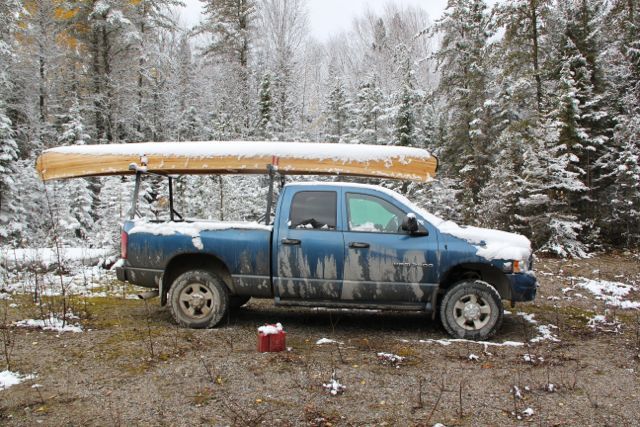 The moose canoe never left the rack last year.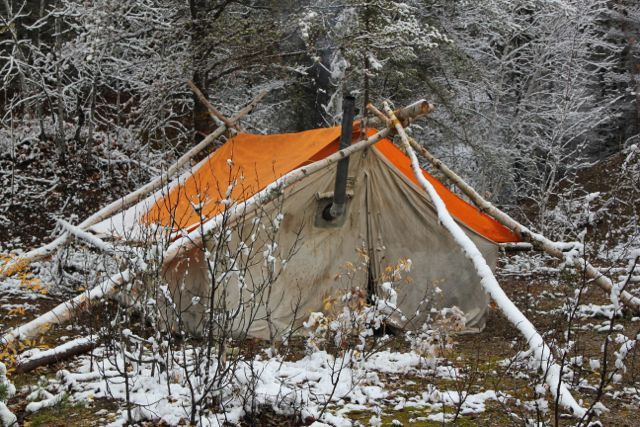 My buddy Rob's set up last year.
We decided to try a different place this year, and we had high hopes, as my buddy's had seen moose there a couple of years ago when they were water hunting with their canoes. Last year, I had convinced my friend Rob to take a look at the Snow trekker tents, and he showed up this year with a new get-up.
It was pretty sweet, and the stove kicked off a ton of heat.
We had a good first night, and we figured that there were only about fifty people around us at this spot. ATV's were rushing up and down the road, and the sandpit across from us was filled with campers, but we were optimistic.
We headed out the next day across a lake about six kilometers long. My pal towed our canoes behind his boat. The plan was to use maximize time canoeing in the little creeks above the lake.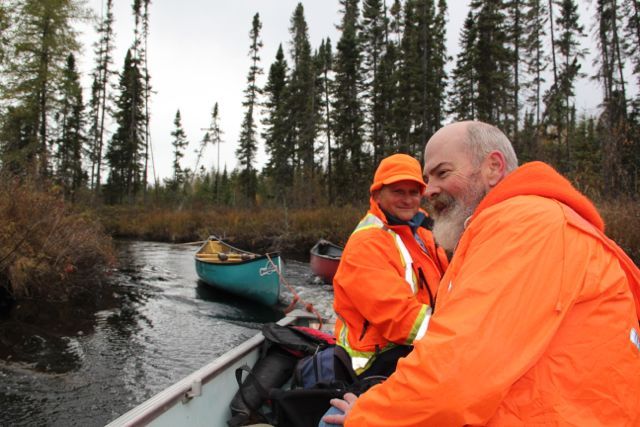 Towing onto the lake.
We both took off up the same creek, staggered about a half hour apart. The creek divided into two branches, I took the east, he went west. It sure looked moosie, but the wind was blowing pretty hard, and it was raining off and on.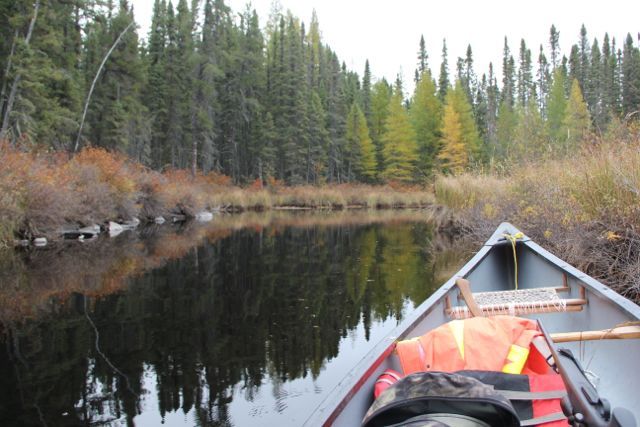 Moose country!
I stopped at one portage and decided if there was a moose on the other side of it, I would never be able to carry his parts over. So I made soup on my little wood burner instead.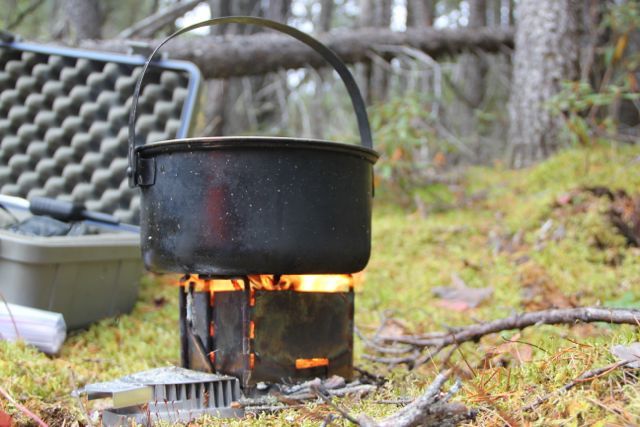 We spent about three or four hours paddling around, and then had to head back before dark.
The next day, my buddy paddled a creek on the opposite end of the lake, and I walked some of the roads through the cutovers. It soon became apparent that there were just too many people in this area. ATV's were buzzing all over the place. I took the opportunity to shoot a spruce grouse, and when I got back, one of my pals had shot a grouse as well. These turned out to be the only successful hunting stories of the trip.
Lots of people don't like eating sprucies, but if they are fried up in oil with lots of salt, they are delicious!
We had planned to spend four days back there, but once again, the abundance of people made us leave early. We're hoping for an early winter now, so that we can do a winter hunt with the Snowtrekker before the season closes.