Joined

Dec 16, 2016
Messages

520
Reaction score

334
Location
Thanks Mike, for the info and offer of shop treasures. I'm still waffling on the hatch idea. I'm not sure the tank bulkhead is rigid enough to take fasteners well, so I might have to reinforce it, and then that becomes more weight (and work). However, I have made some progress closing the stern tank, so I think I'm going down that road (Approach #1) and will get there before spring.
All the thinking about Approach #3 (gratuitous outfitting foam) and the joys of minicell reminded me that I have a box of random pieces of the stuff. The hard part of closing the top of the float tank is that there's nothing to push against, and any "scaffolding" in the tank would be in the tank for good, or at least until I decided to do an access hatch. However, a wedge shaped chunk of scrap minicell holds its position pretty well in the sharp stems, well enough to hold a piece of glass.
First I marked off the lines where I wanted the top of the tank to meet the hull. Then I cut a 2" x 2' ribbon of glass, and used the minicell wedge to hold it in the stern, just below the holes for the grab loop.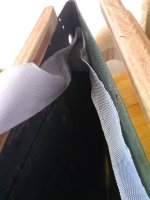 Actually laminating that glass in that position would have been a mess, but with the boat on its side it was easy enough to superglue it to the hull below the edge-of-tank-top line (I think that superglue trick comes from
@Alan Gage
).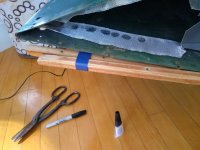 Doing that on both sides, and filling in more glue right along the sharpie line so the fabric wants to fold there, I then had a pair of very floppy "shelves" meeting in the stem. Eventually the wedge wiggled out of position but by then there was enough glued that I didn't need it.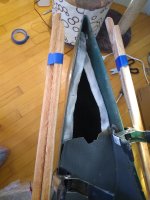 That was almost enough to gently laminate on top of, although I did add a scrap piece as a bridge (no photo). I closed the gunwales up again before I did the deed, so it would be in the right shape.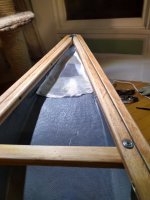 It was crowded under the inwales, but with popsicle sticks and a Q-tip I was able to get the epoxy where it needed to go. Glass just wants to do the right thing when it's wetted out. I still have to do the bow, but now at least I have a plan.