I've been on the hunt for an Old Town Pack and I finally found one. I'm wondering what these are worth and what is a decent price? It looks to be in great shape considering its age. He says he bought it new 10 years ago and it has always been stored inside. Only a few scratches which from what I have read, is to be expected with a Royalex boat.
He wants $700 and I'm inclined to pay it. Is that a fair deal? The cheapest one I have seen for sale was for $600 and it was beat to death and spraypainted black. All of the rest have been asking at least $800…. I have a feeling if I dont buy it and he posts it for sale, it'll be gone quick as these seem to be desirable in my area.
Heres a few photos he sent me. He's holding it for me until Saturday when I can pick it up.
I know one thing, my back will thank me for the times when a short hike is required to put my canoe in the water. I love the Oldtown Next and comfy seat but at 59lbs, it isn't the best thing to carry around lol. I can kneel all day without it hurting my back and it looks like the Pack would allow that easily?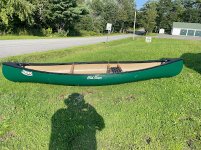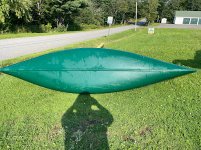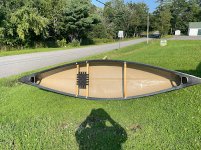 Last edited: