I've been dreaming of this trip all Summer !
Hoping to miss all the people, I put in at Entry pt. 33 Little Gabbro. About 8:00AM, after spending the night at the Kawishiwii camp ground, not far away.
There were only two vehicles in the parking lot, at the the Enty pt. and I was excited.
I three trip everything down the 210 rd portage. I'm not a Young Buck anymore, and tend to take too many " Comfort" things now days. So three trips.
On my last return trip, to get my canoe, Black Pearl, my lightest composite canoe, 36#, I was met by around 15 people all heading to the lake on the portage. My first thought, was there goes my campsite, I was hoping would be open. Thinking I at least had a head start on everybody, there would still be hope, as surely everyone had to make a second trip for gear and canoes. WRONG !
Met four guys coming back from the lake. I said more gear ? One said no they were just hired by the Outfitter to portage this group, and they were done. My heart sank. For sure my campsite would be taken !
I make it to the Lake, and see piles of gear, and no canoes or paddlers ! It was a race, that I had no chance of competing in ! A little down hearted, I load my gear into my canoe. I had been warned that water levels were down, and the landing at Little Gabbro was muddy. That was OK, as I had tall boots, but welcomed the info.
Pushing out into the Lake, I felt a calm ! Not worrying about the campsite, I was just happy to be in the BWCA again. This was to be a 5 day solo, as I had to be back for my Wife's Birthday.
Entering into Gabbro through a shallow channel, to my surprise ? My campsite I had hoped for was open ! The BWCA was smiling on me !
Made camp and a quick lunch, then proceeded to head out fishing, or Minnow drowning in my case. ! No luck with the Crappie or Walleye. Not even a Panhandle Northern, that day.
Wore out a lot of water trying to entice a fish with my Minnows, and a Beatle Spin.. One Pan handle was all that week that was interested. It was good to feel the tug on the line, at least once !
Did some exploring of the lake, and a spot that looked like on the Satellite photo, as a logged area. The map showed it as a slew. It was an old Beaver dam that was nearly dried up. It looked like a good spot to see a Moose.
The first night I was treated to Wolves howling. It started out like a pup, and then an older dog chimed in . The first time I'd heard wolves ! It was Cool !
As it turned out nearly all the campsites on the lake were filled that first day.
Was surprised by the number of Dogs people were bringing into the BWCA ! Mostly by young people,
One young guy stopped at my camp, and asked if he could take a picture of my map, with his cell phone ? He had lost his map. As he pulled into the landing, in a small recreational Kayak, he had a Blue Tick Coon Hound pup with him, 14 weeks old. I used to raise and hunt Blueticks, in my younger life ! We had a great talk, and swapped emails.
I don't know how he managed to keep that kayak up right with the dog and gear? He did !
The nights were cold, two below freezing and the days a little windy. I built a lot of Flare into The Pearl, of which Black Pearl is a composite copy. Had a bouncy but dry paddle.
I was to have company on my last day. Larry Ricker " Nibimocs" a good friend. As I was thinking he would not show up, as his Wife was slated to a cancer check up. I pulled camp and headed out.
It was fun time, except the portage ! Ha !.
I'm making my last trip to the parking lot, and here is Larry. He had one bag unloaded. We mulled over going to another lake, as I did not want to make that portage again !.
Deciding on going to Lake One, for a night and catch up on each others lives.
We did, but I stopped into Subway, for a footlong sub, on the way. Oh that tasted so good !
Against a stiff wind, we found a suitable campsite and got caught up on things.
Larry was going to stay a few more days, and I needed to get home.
Next year, I will go up a week earlier, and spend more time. Even though the lakes were busy for this time of year, I enjoyed every minute !
Here are a few pics.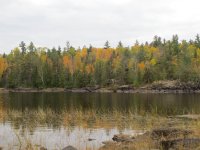 The Dan Cooke Map case. Worth it's weight in gold !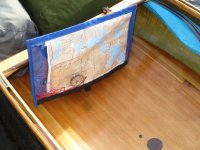 Here is my Coleman Hooligan tent, that served me well. Note the Umbrella that served me well also. It's a mini tarp, you can set up instantly and take with you when you need to visit the Throne !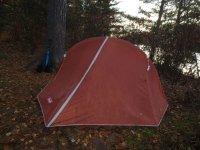 Black Pearl loaded up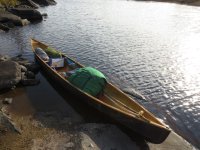 Otters had been feeding on Mussels.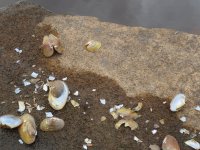 Cornmeal bannock. a favorite of mine.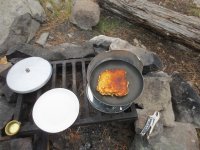 Camp kitchen. Hot chocolate and Grape nuts for breakfast.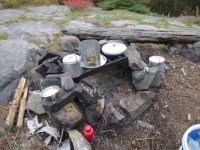 I left my mark in the BWCA. There were Moose and Wolf tracks in the rare sand beach in Gabbro. Note the Nate stick ! Oh was I happy to make and use one !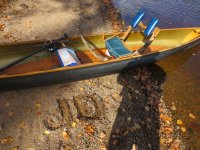 Sunset from camp as fisherman are heading back to their camp.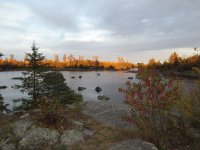 Indian Television.