Administrator
Staff member
Joined

Oct 24, 2012
Messages

3,023
Reaction score

1,213
Location
Some pictures from my local paddle on the Housatonic River through Lovers Leap Gorge to Lake Lillinonah, and then down to the Bridgewater town boat ramp, and back. The New Milford town boat ramp put-in is four miles from my house, a little down river from the GMS rowing center.
This first picture is from the GMS website. All other pictures are from my Nikon Coolpix P7800, unprocessed except for some cropping.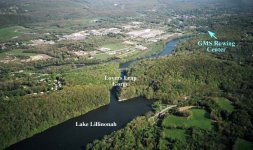 Lovers Leap Gorge is named after Princess Lillinonah of the Pootatuck tribe and her white lover, whom she had once nursed to health, in the mid-1600's. (I was living in New York City at the time.) He left her for a year, and she was so heartbroken that she canoed though the gorge toward the rapids. Her lover, who had just returned, saw her from the top of the gorge and leaped off a precipice to save her. But he upset the canoe and they both plunged to their death over a waterfall (now all flooded by damming).




Slate for your floors, counter top or patio. Why is it all slanted like that? Some sort of ancient geological upheaval?




Is this where the lover leaped? That dangling tree trunk is about to plunge.




A typical Connecticut farm.




Tiny flies on one small queen anne's lace flower. I only saw them in post.




Ladybug? on chrysanthemum?




Cormorant, ignoring me.




Gull on buoy.




Bridgewater landing, down the road from Mia Farrow's country house. (Sigh, she never meets me there.) My routine is to set up my reclining bag chair on the rock, read for about an hour, practice some freestyle in the cove to the right, and then paddle back.