Joined

Jun 12, 2012
Messages

3,962
Reaction score

1,705
Location
I left home very early on the morning of 7/30 and arrived at LeDomaine Canoe Base in LaVerendrye Reserve, Quebec early that afternoon. I quickly bought my permit and fishing license and a topo for part of my planned route, copied some campsites down and portages from their maps in the office and moved on to my next leg of the trip. From LeDomaine it was another 200 km to my put in, 40 km of it on logging roads.
Making good time, I was at my put in long before dark but opted to get some needed sleep, so I set up the tent on the portage at the put in. It was a clean spot in some pines and I was pretty tired. A quick dinner and I was asleep long before the sun went down.
The next morning I was up early and ready to go. Some cold cereal and no coffee till later, I hit the trail fresh and eager to be back in the canoe.
My route was to be circuit 70, clockwise with a detour about mid route down into circuit 77 for a few days.
Circuit 70 is only listed as a 3 day trip, with two big lakes and the rest river current.
My first day was to be heading upstream, but by doing the circuit clockwise, the upstream part of the trip is pretty easy.
2 portages and one small wading/lining of the canoe and I was in Lac Lambert.
Paddling upstream was easier than the headwinds I had to deal with on Lambert. It was warm with a southern breeze right in my face and sometimes some rain showers later in the day. I passed up a nice campsite and headed for one further down the lake, but the wind made it a tough days paddle. I found my campsite on a cobblestone beach.
Rain had started and after camp was set up, it came in buckets. My old tarp did a nice job of keeping me dry and I went to work on some wet cedar for a campfire. I had only brought a Littlbug twig stove, so dry wood was a must, either a quick meal over the stove or a campfire. Here I am with my rain soaked rain gear cutting up a nice piece of cedar. Notice the little stick I am using to create the proper tension on my saw. Don't forget, I have layed these little sticks all over canoe country for my saw, so if you happen apone one, please, leave it be, I'll be back and it might be all that keeps me from a warm fire and hot meal.
Soon I had a nice fire going and plenty of dry wood to keep me comfortable and enjoy a hot meal. BTW, That's my old "Campmore" tarp, the tie downs have long been ripped out and I now roll a stone into each corner and then wrap my cord around the stone to make a really good and strong tie down. It's served me well for many years, a good friend and I would feel bad to leave it home.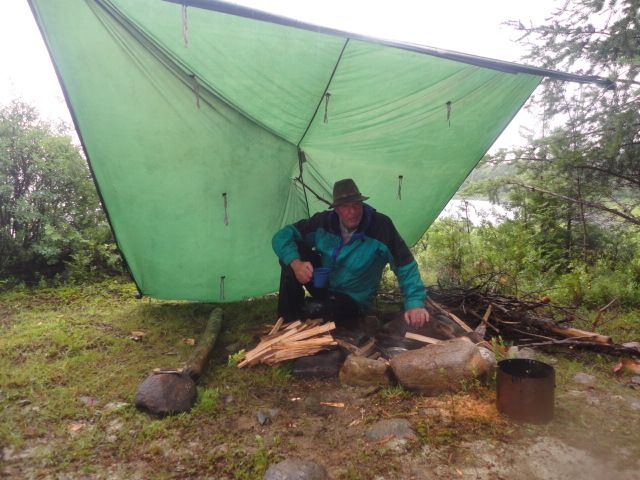 Not long afterwards I heard a small motor boat engine not too far off, so I peeked out under the tarp into the blowin' rain and wind and much to my surprise I had company. A portage/campsite clearing crew showed up to work on the site. They where a crew of 2, a middle aged friendly French Canadian guy and a young French Canadian girl/lady. They where very friendly and we talked a bit, but I could see they where in a hurry and they worked well together. New "Toilette" sigh, cut some branches away from the campsite sign, clean up the trail to the toilette, very fast and soon they where back in the boat. They said they where out for 9 days, the boat was stuffed with gear and that they portaged it. She was driving and he sat up front today. Those folks are the real deal, they told me they work thru all weather conditions. I thanked them and asked them to be safe.
My friends working hard to help me enjoy my trip. The lake was kicking up but they moved out without a second thought.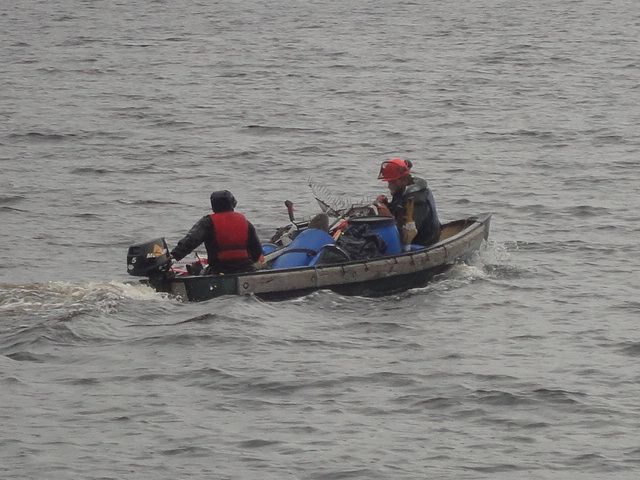 The next morning the lake had calmed down but I was sore from the day before so I took the day off, it's best to know when to rest up rather than push on. It was a nice day and I enjoyed hanging out around camp and paddling/fishing the lake.
The next day I headed out and by noon I had left Circuit 70 and entered Circuit 77. I portaged in Lac Cawasachouane, paddled south till mid afternoon and found a campsite. I set up camp just before a storm moved in. Soon afterwards, I paddled out right in front of the site and drifted a jig with a black rubber curly tail. I caught these two great pickerels, returning the bigger one as they where more than I could eat.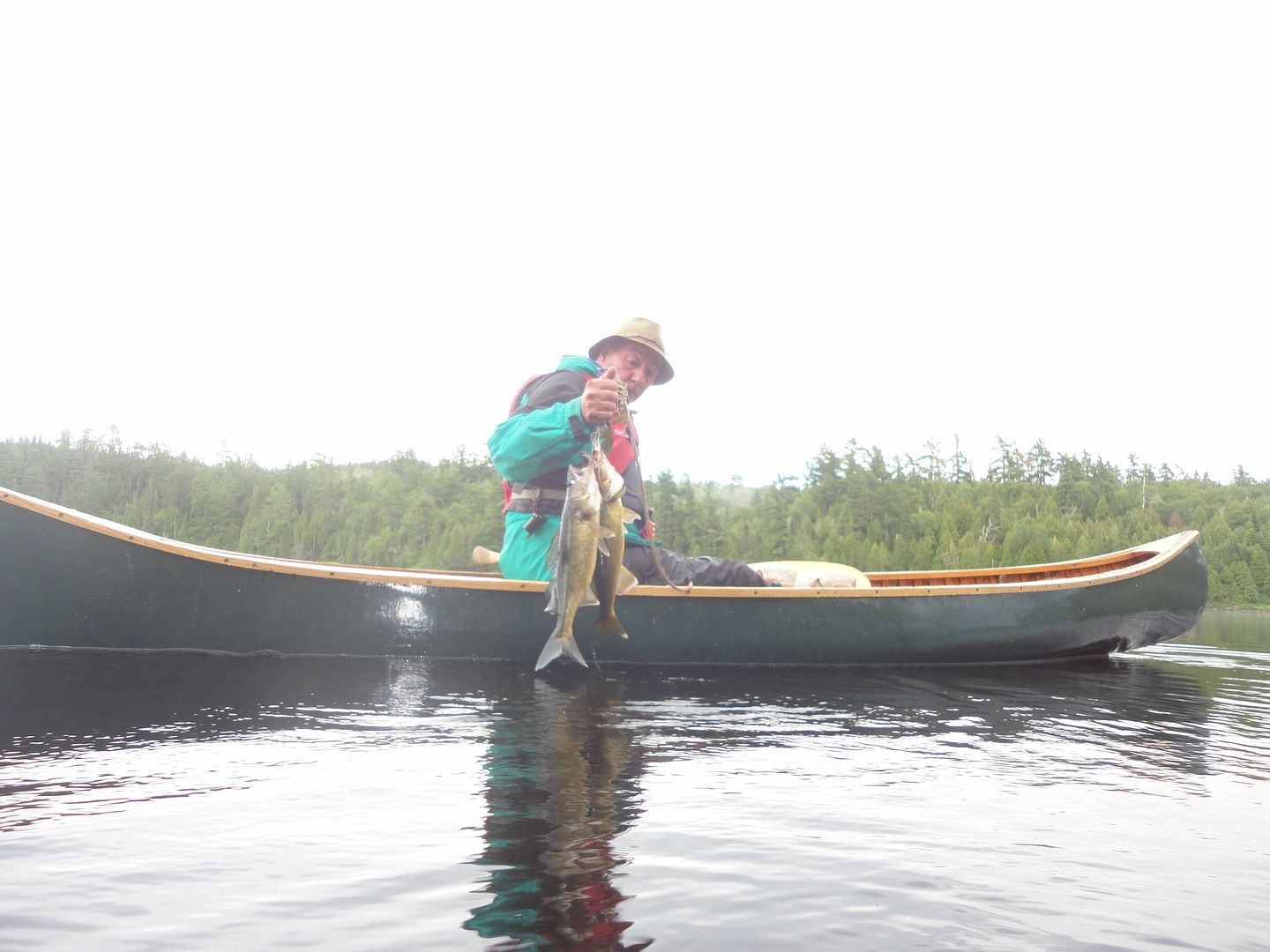 The next morning I headed further south on Lac Cawasachouane towards one of my favorite places in LaVerendrye, Chute Henault. The Chute flows out of Lac Henault and it's a special place. I have camped here before, caught pickerel and had some great shore lunches. There is a nice campsite, my friends had already been thru and the firepit was clean and rebuilt, the area raked and weed wacked, really impressive.
Here I am with "leftovers again"....pickerel filet with a touch of maple syrup, with Chute Henault in the background.
Not long after this, I met my portage/site crew again. They pulled up to my canoe and I guess they hadn't seen it before when we met on Lac Lambert. He mentioned it's roundness and possibility of a white water canoe (he had mentioned he had been on a river crew for years), was it a cedar canvas and did I build it. She mentioned "she liked my style"
Now I don't know about Oldie Moldy, but it's been a long time since a 20 something with looks like hers told me she liked my "style". A very long time.
So I sat there and said the first thing that came to mind....
"Hey, wanna be friends on Facebook?"
"What You say" she says in her romantic French accent.
sinking down on my webbed seat I said, "hooked my finger on a fish hook"
"Ouch" she said.
So here's my canoe with the packs waiting out another big storm. My food is in the smaller Duluth Day Pack. I used 2 Sealine waterproof bags inside it, one for breakfast/lunch/snacks and the other for dinner.
Worked well. The smaller pack is my fishing gear, binocs and camera. The rest of my gear fits in the large Duluth Pack. Using the Littlbug stove saves tons of room.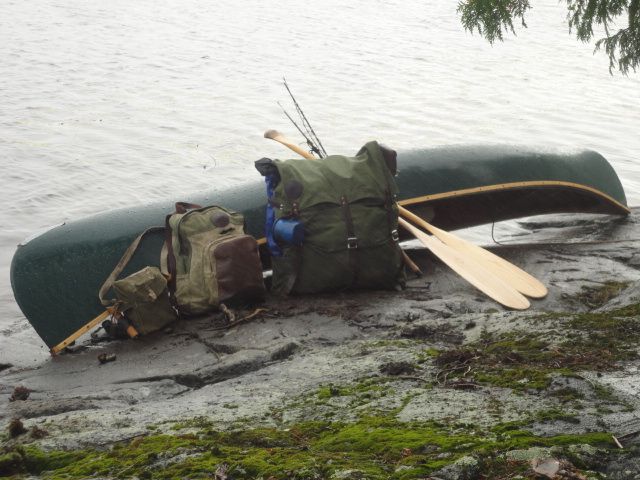 Above the Chute Henault a tree had floated down the stream heading towards the chute, making for another unplanned portage.
Later in the trip, I stopped at a vacant campsite and made some Cowboy coffee. I tried every combination of water temps and amounts of coffee, I still haven't found the correct combination, but it's been fun trying.
Nothing like a cup of coffee along the trail.