Administrator
Staff member
Joined

Oct 24, 2012
Messages

3,842
Reaction score

1,952
Location
This is my first attempt to scan an old photo into digital.
This is me in March 1982 on an unknown lake in northern California. I'm paddling either my second canoe, a 16' Old Town w/fg Guide, which I bought new for $900 from a backyard dealer going out of business, or it's my third canoe, a 17' Old Town w/fg OTCA, which I got new from the Berkeley, California, REI store by trading them the Guide plus $400. I believe the canoe is the OTCA because of the upsweep of the ends, but I'd appreciate it if anyone can help confirm which canoe it is.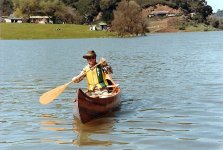 I'm sporting an Old Town PFD, an Old Town 57" beavertail paddle, and a new Akubra fur felt Aussie slouch hat from David Morgan in Seattle. I'm kneeling amidships on three PFD cushions to trim the canoe properly. Everything I just mentioned cost me less than $1,200 brand new if the canoe is the Guide and less than $1,600 if the canoe is the OTCA.
The OTCA eventually "disappeared" around 2005 in the custody of a canoe restorer.