The dénouement to the most recent Assateague trip can now be told.
By the time I got around the putting the Monarch on the roof racks it was dark. And had gotten windy. And I was ready to get rolling down the highway and get home before midnight.
I wasn't thinking, or planning, I was just doing. I had padded Loadstop brackets on the crossbar that work well with the shape of the Monarch hull and cockpit coming.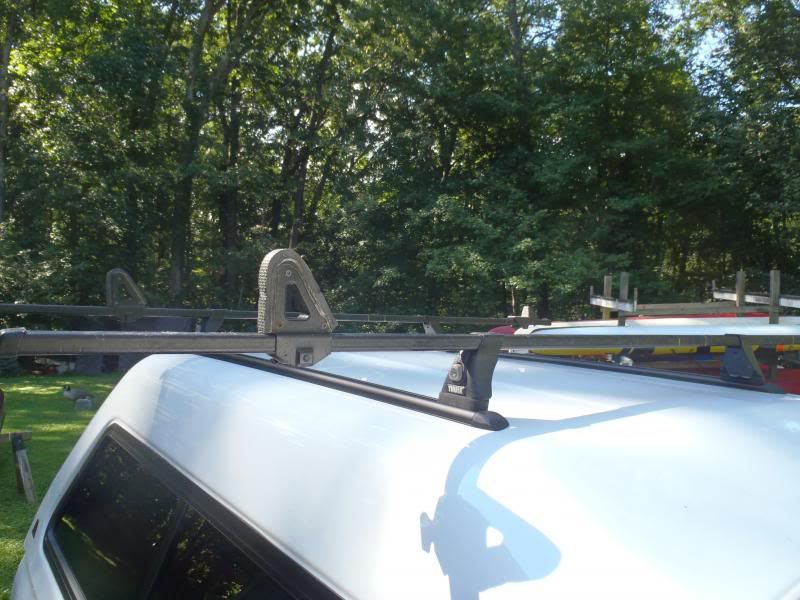 I had a Thule Load Assist bar on the back crossbar.
Unfortunately in moving gunwales brackets around when toting different boats the Loadstops were not on the same side as the extension bar. This had not been a problem when loading or unloading the boat in no-wind conditions.
Even more unfortunately in my haste I tried to put the Monarch on the racks from the downwind side of the truck. Do you see a problem coming?
As I was scurrying to get a belly line in place the wind blew the Monarch off the roof racks. I tried to catch it – not easy to do when you are at one end of a 17 foot boat the other end is suddenly airborne - and still have the bruises to prove it. I managed only to assure that it hit rudder first.
Fortunately the only damage was one bent control arm, which I later managed to bend mostly back into place, and everything is still intact and workable.
Confession – If I had been thinking I could (probably should) have turned the truck around so I was at least loading from the upwind side, but in those winds it might well have blown off the far side of the racks, and I couldn't have sacrificed my body to break its fall
I had a lightweight canoe blow off the roof racks years ago when I was trying to solo load in high winds. Does anyone have a tried and true methodology for dealing with that? With two people it's not an issue, but loading solo in windy conditions, well, fool me twice….