Joined

Oct 10, 2022
Messages

167
Reaction score

99
Location
JCH_Ski,​
I haven't paddled either of those Sawyer solos you're asking about but I have paddled a Wenonah Advantage in a lot of conditions that you might encounter in that race or out paddling for a day. I no longer own the Advantage - I discovered sport canoes and couldn't keep all those boats so something had to go - but it remains one of my all time favorite canoes. It does go plenty fast for a recreational canoe but it could also handle some choppy waves, moderate current (not really whitewater), narrow twisty streams with beaver dams, and maneuvering through and around downed trees and stumps in a swamp. Was it the best canoe for most of those conditions? Of course not, and why I'm now more of a sport canoe guy. But I made the Advantage work for me because that's what I had. I think you'll find the same for the Shock Wave; you get used to the boat and you make it work.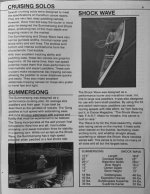 As for the layups, I think the Expedition Kevlar is just what you're looking for based on the descriptions. (I don't know if they changed their layups after the late 1980's.)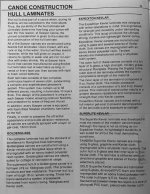 As others have mentioned, in the end you just have to narrow down your priorities for performance, buy something you can afford that is well within that performance range, and then learn how to paddle it effectively with efficiency. That's part of the fun of canoeing.
Last edited: