Joined

Oct 29, 2019
Messages

429
Reaction score

488
Location
My wood canvas canoe has a sculpted portage yoke, with pretty deep shoulder recesses. In use, it is pretty stable on my bony shoulders, but I've discovered it's pretty painful. At my local lake there's a trail from the public put-in parking area that leads along the lakeshore to a more remote location where an old road deadends into the state park lake which was created in the 1960's. Just for practice and to familiarize myself with portaging this canoe, I've been carrying it over the 500 yd. portage both to launch and take out. I know... I'm a bit of a masochist I guess, but better to refine my portaging close to home rather than the first time I take this canoe tripping!
Anyway, while pondering how I could pad the deeply sculpted yoke, I began thinking about what foam I might have at hand to make padding. I have some old Ensolite mattress pads, several pool noodles, some random bubble wrap, etc. and I'm trying to think of both an effective and easily repeatable method that can come on a trip with me. And, voila!, it occurred to me that I have a pair of kneepads which I use for work whenever I'm doing a hardwood floor installation.
I reasoned that I could somehow drape the already curved pads over my shoulders, and while that seemed like it would work, I doubted that they would stay in place. My pads have velcro tabs to affix them both above and below the knee, so I re-arrranged the velcro straps into a configuration which looks like football shoulder pads. The primary straps keep the pads aligned on either side of my neck, and the extra straps on each pad are joined so they form 'sleeves' on each pad. With the whole thing stuck together, I just put it on over my head and at the same time slip my hands & arms into the sleeves until it's seated on my shoulders with straps under my armpits..... and, it works like a charm!!! Doesn't make the canoe any lighter (around 55 lbs.), but it sure does feel better. Looks rather silly getting set up at the public parking lot, but so what.... most people think I'm a little nuts anyway!
Additionally, they can function in their normal mode for kneeling on the canoe's ribs while paddling, and, at camp around the fire ring to get the fire started!
Here's a few pictures: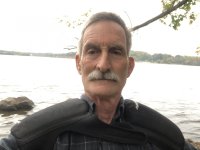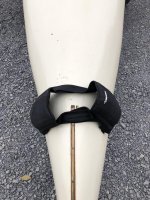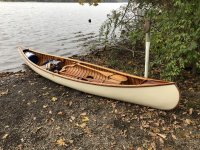 And, for good measure, a shot of Fall colors on my local lake: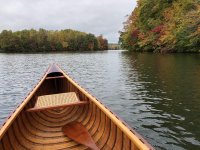 Last edited: