Big Island Lake Wilderness
5-22-24-2012
Group Members: Just Me
Day1
Lakes Paddled: Big Island, Mid, and Coattail Lakes
I arrived pretty late in the day around 3:30pm. Not the easiest place to find. Maybe that is why there is only one other car in the parking lot. From talking to the volunteer ranger couple at the end of the trip they like to keep it their little secret. Actually they said that they policy of the Hiawatha National Forest is to encourage use if you can find your own access. They do not like to use signs. It is a short 2 minute portage down to the name sake lake. Two trips down and I am off on my very first solo canoe trip.
Getting ready to push off
Big Island Lake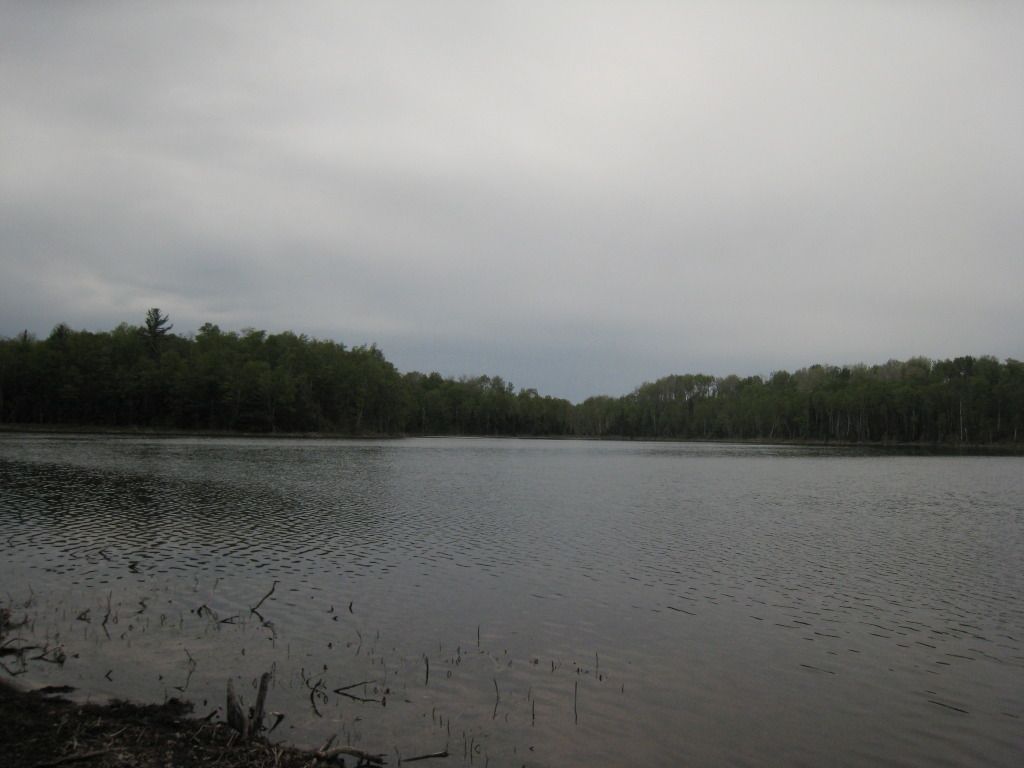 The lakes are all small in the BILW. If Sylvania wilderness is the mini Boundary Waters, Big Island Lake is the mini Sylvania. On my way across to the portage into Mid Lake I paddle to where I think the portage is located only to find it is campsite. Not ever being here before I did not know that there are established campsites. At the check in board I grabbed a map handout they had there. Once I found the campsite I decided I should to take a look at the handout. The map I brought was just a topo that I drew the portage locations on. I see that there are two camps on this lake and most of the other lakes have a single site. The portage into Mid lake is maybe two boat lengths. Push off into Mid around 4:30pm. Mid Lake is narrow but long. I paddle over to the campsite here and look around. After that it was quick paddle to the portage into Coattail Lake. This portage had a vary small landing and was up a steep hill over a ridge than down less steep into Coattail.
Coattail Lake
From here I paddle over to the campsite. This site has a really nice landing and good views. Since it was hot and buggy I was looking for a sit that had a nice breeze. This one has everything I look for in a site and decide to set up my home for the net two days here.
My campsite
My goal was to make into McInnes Lake, but the weather was starting to turn. I had camp all set up by 6:00pm and walk down to the lake to pump some water for dinner. I feel a couple of rain drops and move back to camp to prepare my dinner under the tarp. I finish dinner and other chores around 7:00pm. I sat around to think about the day and go to bed around 9:00pm
Day 2
Lakes Paddled: Coattail, McInnes,and Klondike Lake
I wake up around 6:30 but do not get moving till around 9:30. By 10:00 breakfast is done and I am pushing off. I make it to the portage to McInnes in short time. This one is up a step hill to the top of a ridge than down the side into McInnes Lake. On McInnes I check out the campsite. This camp has very poor landing but is really nice. It is on a point on top of a hill overlooking the lake. Back on the water I search out the portage into Klondike Lake. This portage is flat but next to swampy section between the lake. the landing on McInnes side is nice and I rest here for a little bit. The landing on Klondike side is mucky. Klondike is one of the larger lakes int Big Island Lake Wilderness and in my opinion the best looking. Even with the old logging evidence.
Logging evidence
The western end is a very shallow bay but outside the bay is deep. I paddle to the campsite for lunch. It is a cozy little spot on a point with a good view and breeze.
Klondike camp
I spend a lot of time here writing in my journal and munching on trail mix. Around 1:00pm I decide to head back towards camp. On the portage back into McInnes my portage yoke begins to break apart. With a strap and a little tightening I get to work. Good thing because this is a longer portage. Not to mention the steep hill portages to get out. On the portage into Coattail Lake I almost run into a couple of guys heading to Klondike Lake campsite. Now I am paying attention a little more and step of the trail for the rest of their group to pass. I spooked them a little because they were not looking forward. These four younger guys are the only people I have seen so far this trip. Around 2:00pm I make it back to camp and take a nap. After that I wonder around my campsite exploring. I call it a day around 9:30.
Day 3
Lakes Paddled: Coattail, Mid, and Big Island Lake
View from my camp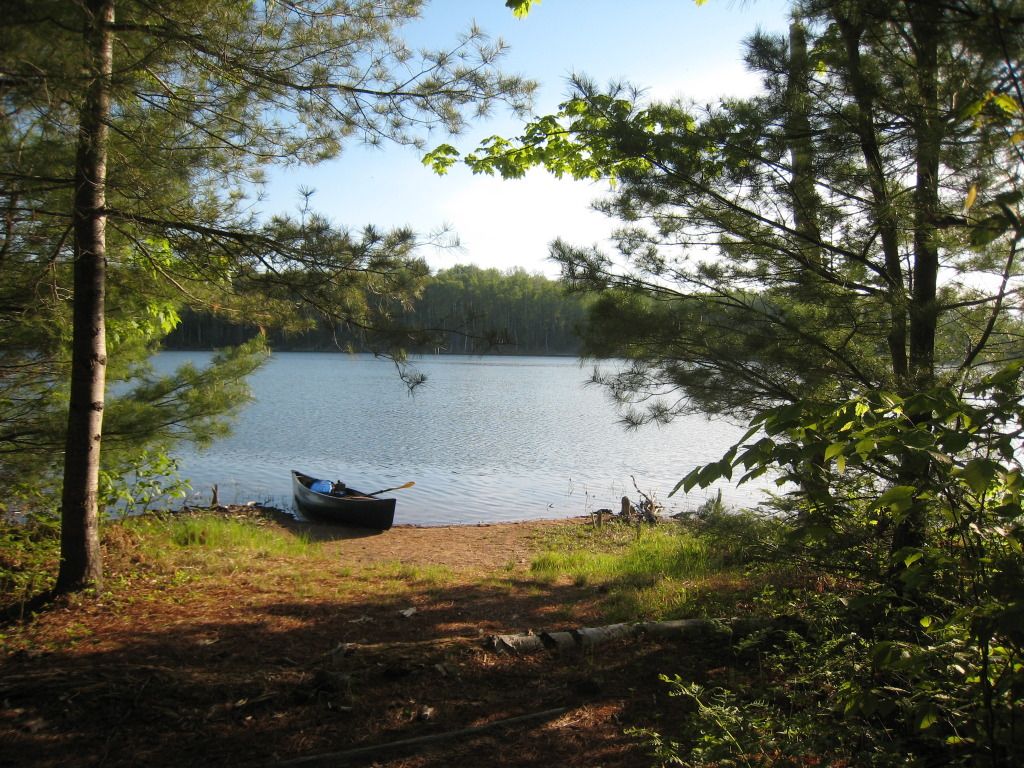 I am up pretty early around 7:00am. By 8:00 camp is packed up and am on my way. Every campsite I pass is occupied on my way out. I make it to the exit port around 9:30. I set my canoe on my trailer after my last trip and see an older couple unloading their canoe. They are volunteer rangers that come check up on the wildlife and campsite three times a week. I chat with them for a while while they do an exit interview with the typical questions.
Lessons learned: For a first solo trip everything went well. I no scary moments. everything except my yoke worked out. Tarp set up went quick and worked out. On to the next adventure.
Last edited: