Well this year our usual foursome made our yearly weekend trip into the back country. We chose an easy trip this year into Booth Lake where we set up base camp for 2 nights. Entering at Access 17 it's a short trip in and out with short portages. We had to do a short trip as we almost wiped out our less experienced member a couple years back on a killer Killarney trip. We had to show him tripping can be easy too.
We didn't get going until after 1030 am and the winds were starting to pick up. Of course they were right in our faces for the paddle out. The access point at 17 has lots of parking and permits can be bought right there. The first leg of the paddle is fairly well sheltered from wind especially the last winding section leading to the portage from Farm Lake into Kitty lake. The portage could be avoided and the canoes could be lined up the small swift as we learned on our way home. If you choose the portage, it's a short 60 meter well worn trail. Try lining first...it's something we don't do often. On our way back we just walked down the rapids holding the canoes with no problems.
After this portage it's a short paddle through Kitty Lake to the 550 meter portage into Booth Lake. the channel (river) section leading to the portage really showed how low the water was this year. It was still passable to the take out spot.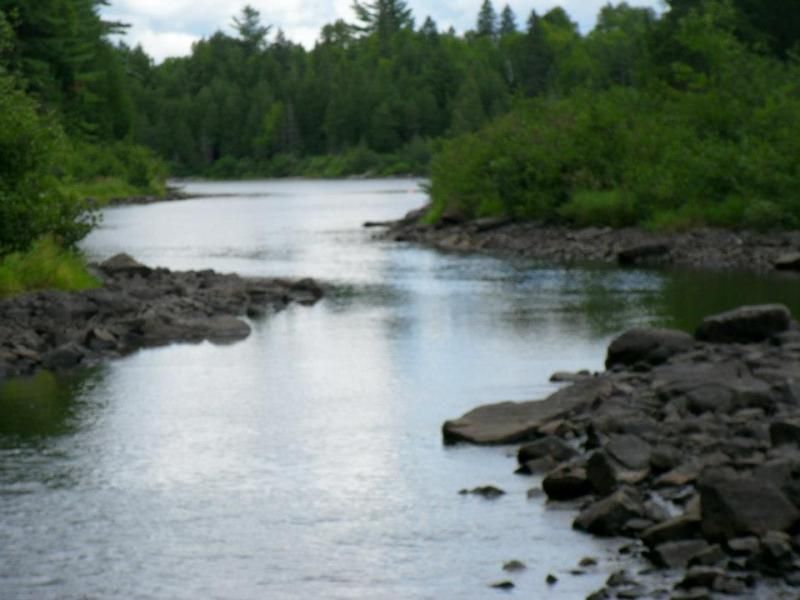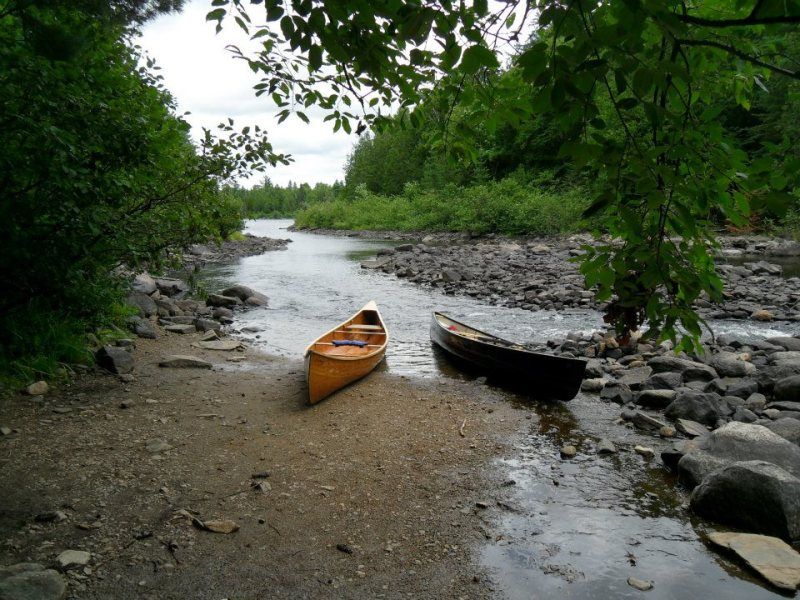 There is a great little pool you can swim in at the base of the rapids on this portage. The 550 meter portage is another well worn and easy carry. Once we got into Booth lake the winds licked up. the Swells were coming over the fronts of the canoes and there is no shelter from a west wind coming down the lake. We were forced to grab an early site on the lake and this was a good fortune in deed. We stayed on the third site along the north shore. It has a long beach, huge area for tents (4) and a nice rock fire pit and kitchen area. Swimming is good here also.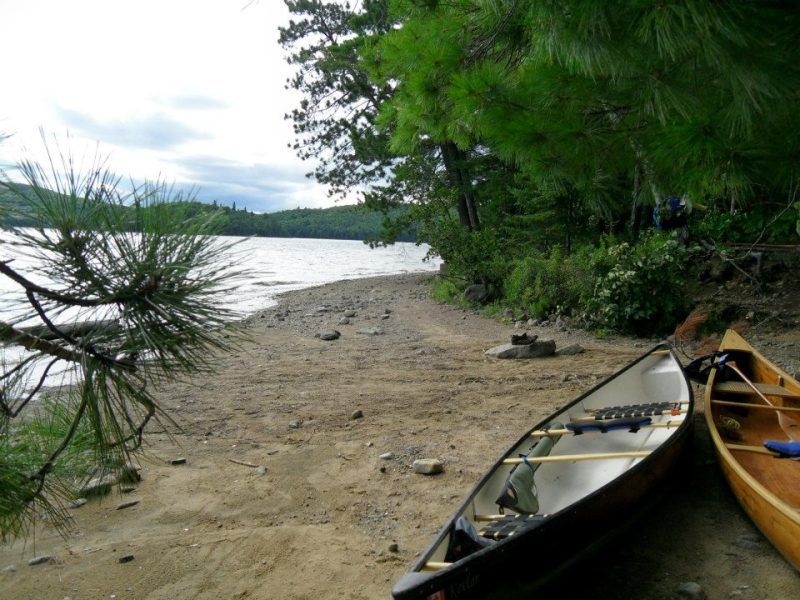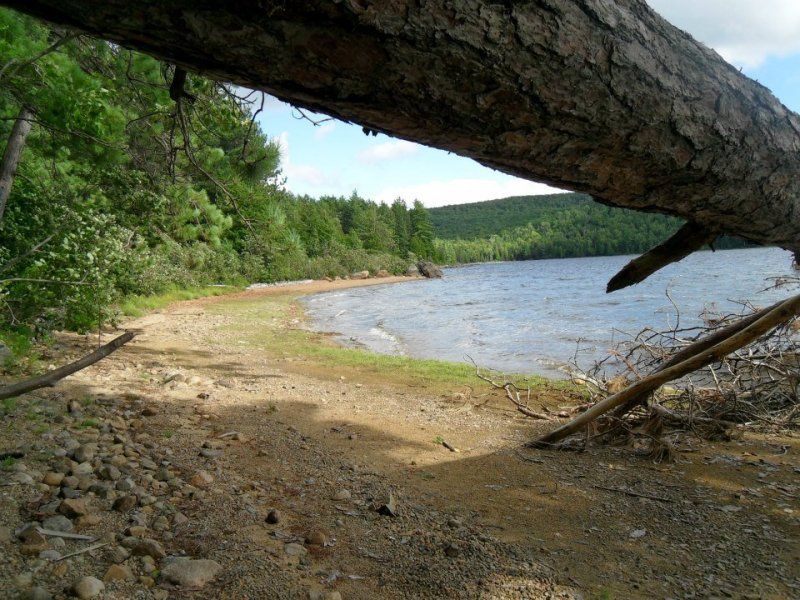 We settled in for a steak adn potatoe dinner topped off with lamb chops. You just have to love those fresh food first dinners. It's not like that come day 2 for us. We eat well but the first dinner always sets teh trip off right. We were met with three days of wind that kept us bound to our sites except for the early morning hours. I was able to get out for a morning paddle in the mist but soon the wind was upon us. It hampered our fishing plans and day trips but we still passed the time on the site with cards, sling shot competitions and just hanging out.
The evenings were clear but windy and our site had a great evening view of the lake.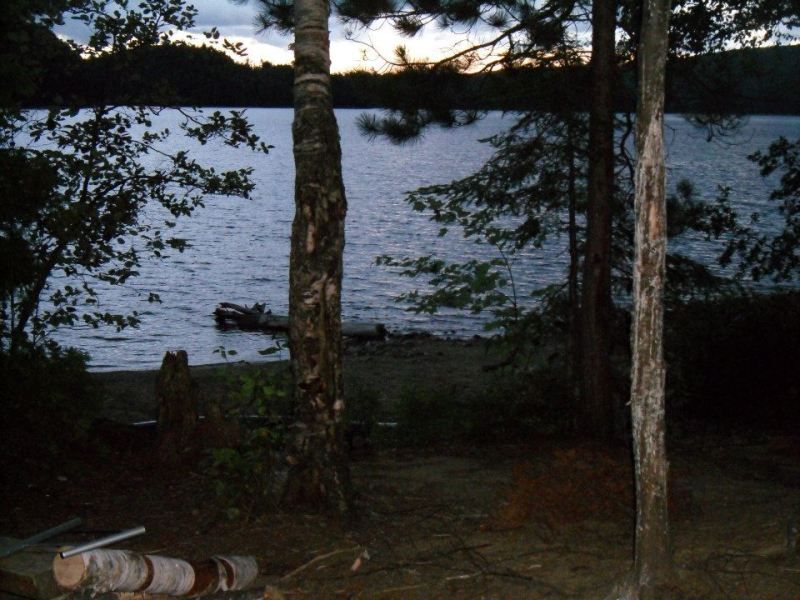 The paddle out was easy with the winds at our backs. We even had a chance to get the tarp up and do some sailing.
Overall it was an non eventful trip just peacefuil times with good friends. No animals encounters and only 2 small bass to tell as stories. I'd recommend this easy weekend trip for anyone just wanting a relaxing easy outting.