Algonquin Magnetewan Lake to David Lake – Sept 14-16, 2012
We didn't arrive at Access point 3 (Magnetewan) until just about 12:30 pm. This has to be the latest time that I've ever left for a trip. I won't be doing that again as I enjoy arriving early in the afternoon and not being rushed for setting up or dinner. We stopped in at the Kearney Community center and picked up our permits. It was nice to learn that no one else was on David Lake during the time we were there. There are only 2 sites on David and the Park leaves a site on each lake empty for emergencies or for use by the rangers. The drive up Forestry Tower Road from the Town of Kearney is a rough bumpy drive and just this section alone will take 45 minutes to an hour. The drive is beautiful with small lakes and streams bordering the roadway. Once we arrived at the access point there is a large parking area and loading area to get yourself started. There is even a dock if needed.
The rain was still falling as it had been all morning. Not near enough rain to dampen the trip and we were soon off paddling. The paddle to the first portage is only a 10 minutes trip. It a short paddle out around the point then the sand landing of the portage over to HAMBONE Lake is found. It's a nice sandy exit at this point.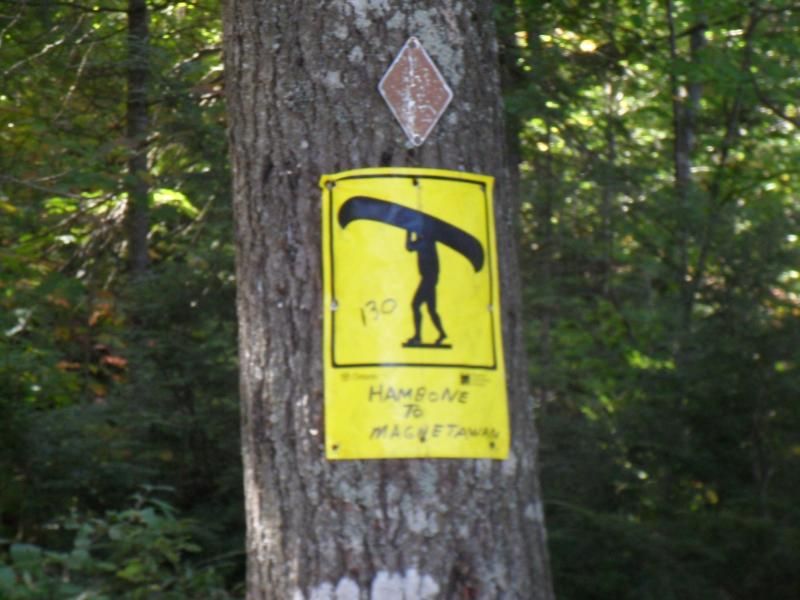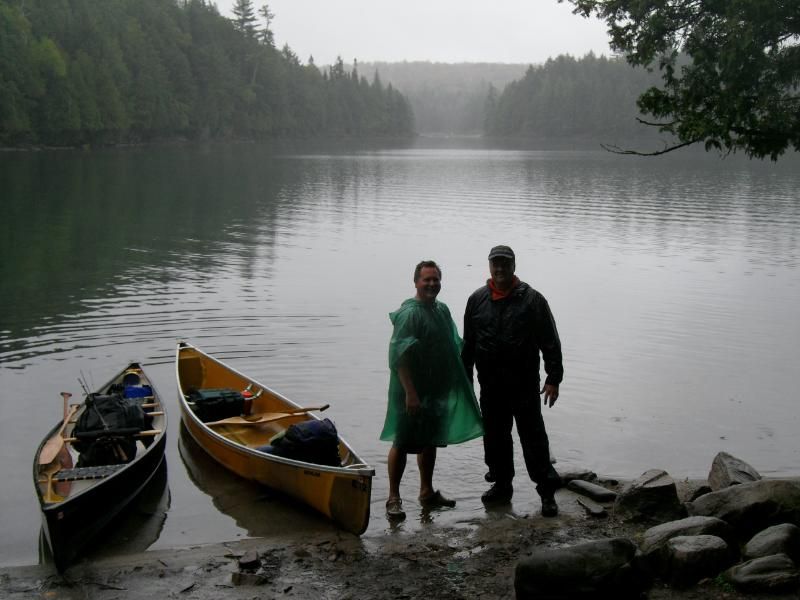 RAIN WAS NOT STOPPING US - PORTAGE FROM MAGNETEWAN TO HAMBONE
The portage from Magnetewan to Hambone is only a 120 meter walk and the trail is well worn. It's a good portage to get yourself back into tripping mode. Once over the portage you will be putting in at Hambone Lake. This lake was always said to be clear with greenish water. Well it's true. The water is clear and you feel like it belongs in the Carribean. Hambone is a very protected lake from the wind. If I were to return I'd spend more time in this lake with the fishing rod.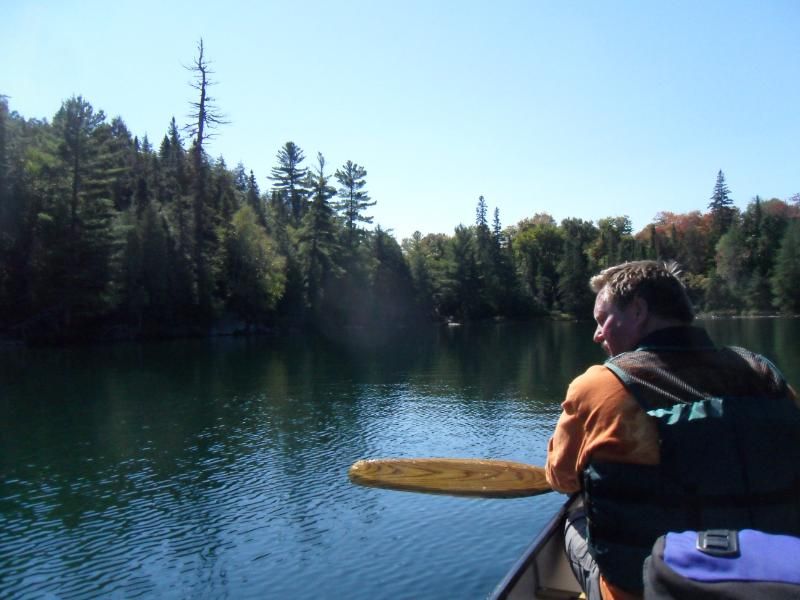 THE GREEN WATERS OF HAMBONE LAKE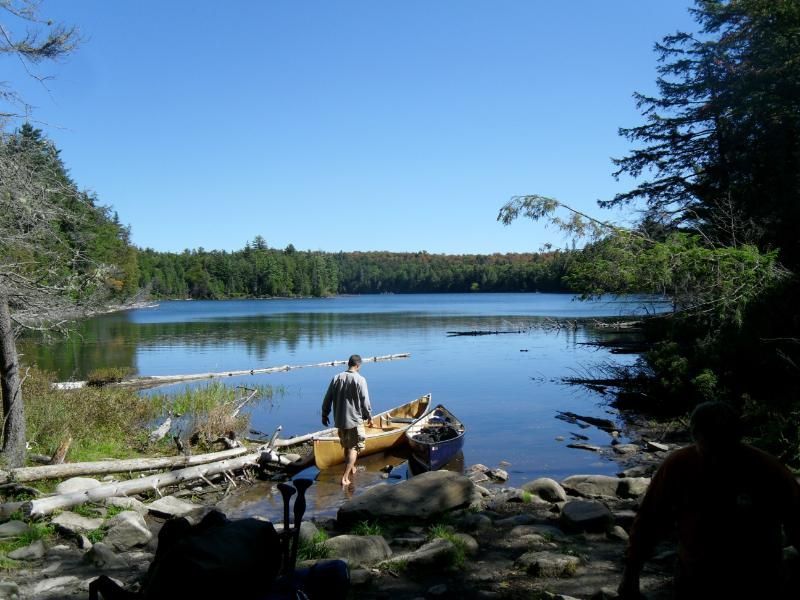 PORTAGE FROM HAMBONE LAKE TO RALPH BICE LAKE

A short paddle across Hambone will bring you to the portage into Ralph Bice Lake. The portage is an easy carry of only 295 meters. Again the trail is well travelled and even after a day of rain, fairly dry. It's a flat easy carry. Once into Ralph Bice Lake, you will have that big lake feeling. Ralph Bice is a large lake where winds can cause you problems.
There was only a light wind on this day, and it was at our backs. This was good since one of our group was going solo. Ralph Bice Lake is a very clear lake with many amazing campsites. We paddled along the north shore and I would stay on any of the sites we passed. So far we had only seen one other tripper, who was solo on Ralph Bice Lake. He was able to give us tips for the Lake Trout he was catching while there. A short paddle across the North shore with its deep bays, brings you to the portage from Ralph Bice Lake to David Lake. This is not a long portage, measuring 620 meters. The portage does have a sharp incline at the start, but then levels out. For Algonquin Park I would still consider this an easy portage to carry over.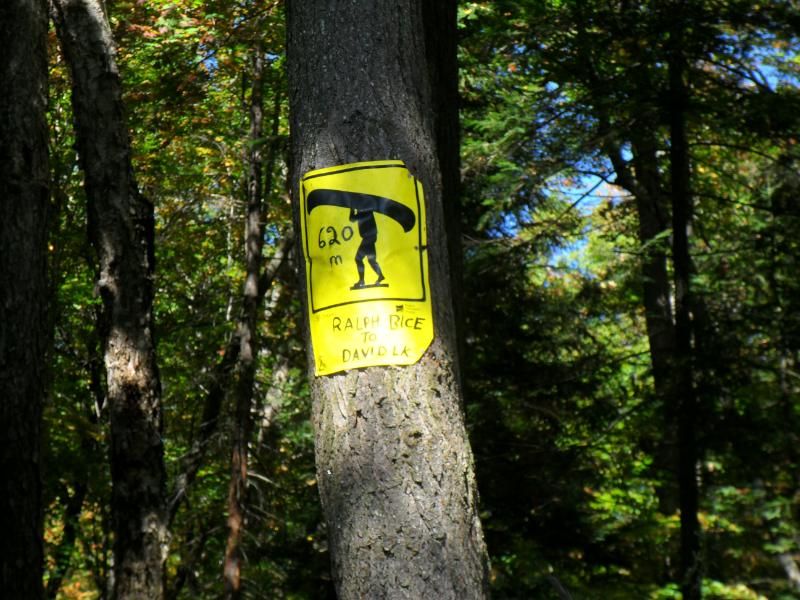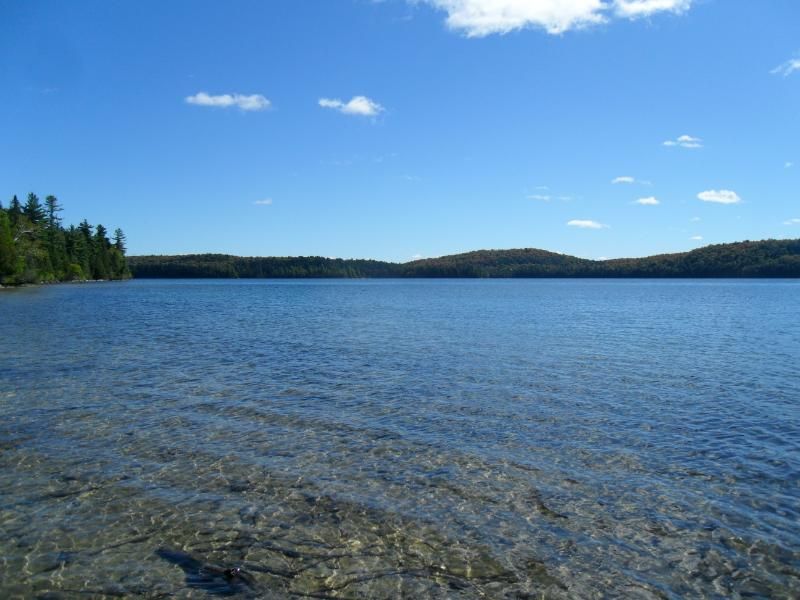 RALPH BICE LAKE
From the end of this portage, looking out over David Lake, you can spot the Island where we wanted to camp. I'm not one who usually likes the Island sites, but this one was said to have great swimming, and a great site. The Island is literally a 10 minute paddle across. The swimming rock on the East of the Island was in clear view from the portage.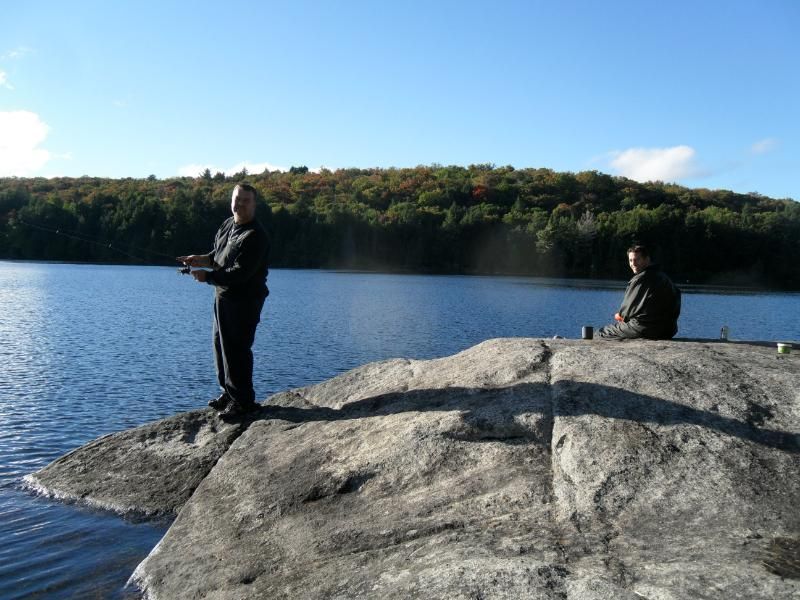 THE ROCK SHORE OF THE ISLAND SITE - DAVID LAKE

Arriving on the site, we were not disappointed. It was one of the best sites I have ever camped on. It's well protected from wind and rain with huge pines overhead. Large rocks with roots of large trees over them give quite an impression. There is a large fire pit, and to our amazement, a large pile of wood left by previous campers. I think this camp etiquette rule has been falling to the side over the years. We were sure to leave just as much wood or more, for the next campers. The site has ample room for 3-4 tents, easy access to the water, good cover, and great swimming.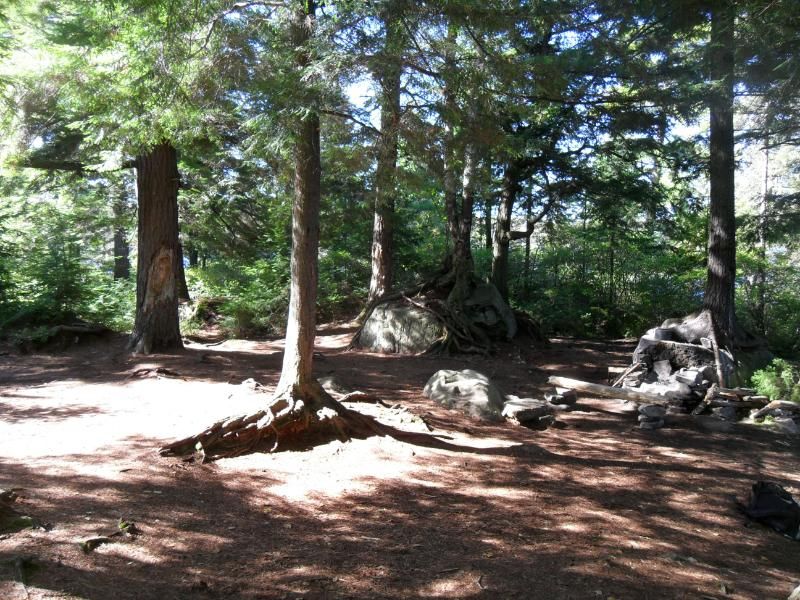 ISLAND SITE - DAVID LAKE
The views from the site were unbelievable at times. The Lake being small still has all the loons, and wildlife of any Algonquin lake.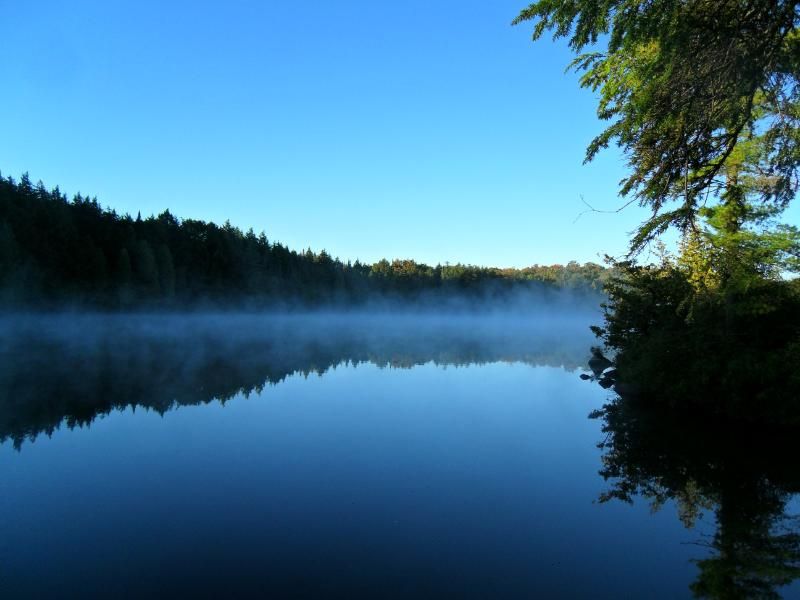 WEST VIEW FROM ISLAND SITE - DAVID LAKE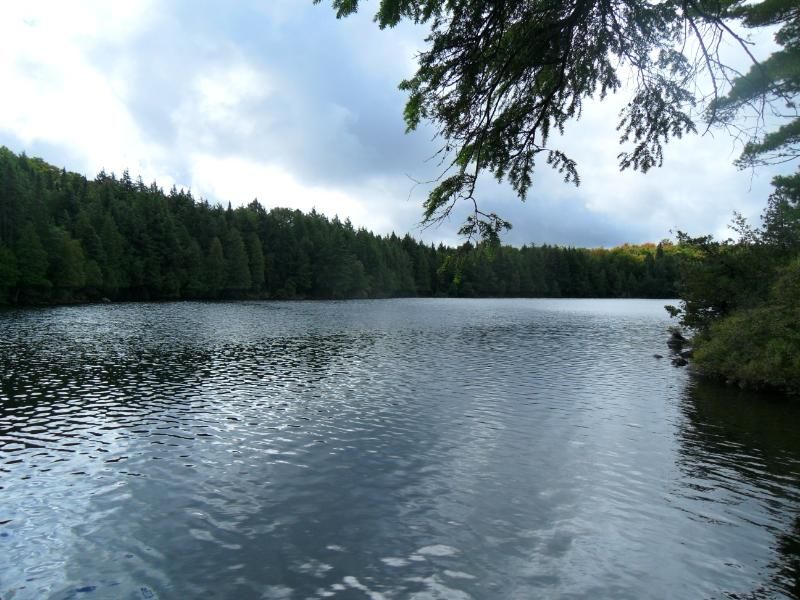 On our trip we have one member who loves to go in search of firewood. On this trip he returned from the mainland with two canoe loads of wood. Most of which is hardwood. This guy will bushwack for miles in search of the hardwood. He sure didn't let us down again.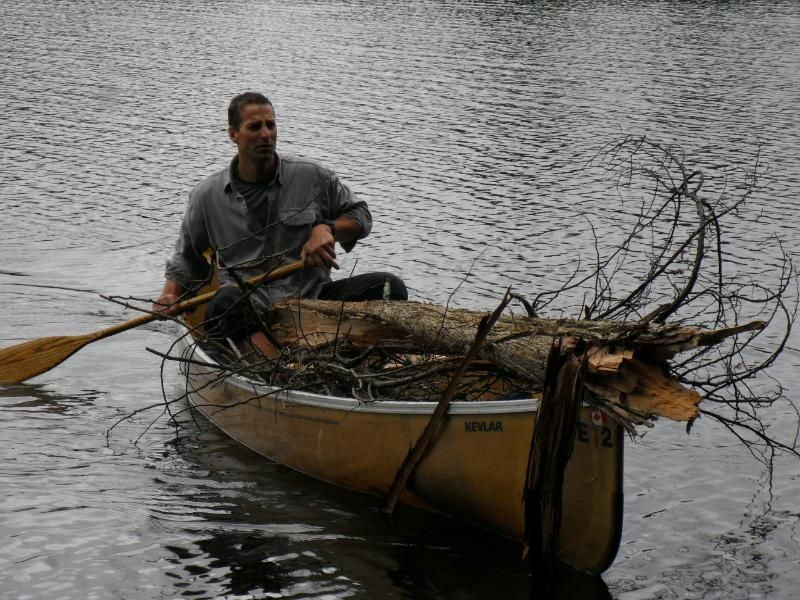 ONE OF SEVERAL CANOE LOADS OF WOOD FROM MAINLAND
OUR SUPPLY OF FIREWOOD - ALL FROM MAINLAND BY CANOE
The best part of it all was that the next people have a canoe load of hardwood waiting for them.
It was now time to prepare for that first night dinner. You know the one with all the fresh foods. Tonight it was steak and potatoes. The hardwood pays off for that kind of grilling. I took notice of a large metal pot on the rock near the fire. I figured this was left behind as it was so large and heavy. It would make a great dishwashing pot. I lifted the pot off the rock, then screamed and jumped for my life. There was a huge snake curled up in the pot. Once my heart returned to my body, I realized it was a fake snake left behind by previous campers. We had a great laugh over this one. I have fallen for that trick at the thunder-box but didn't expect it here. I love the sense of humour of who ever left that one behind. You got me good.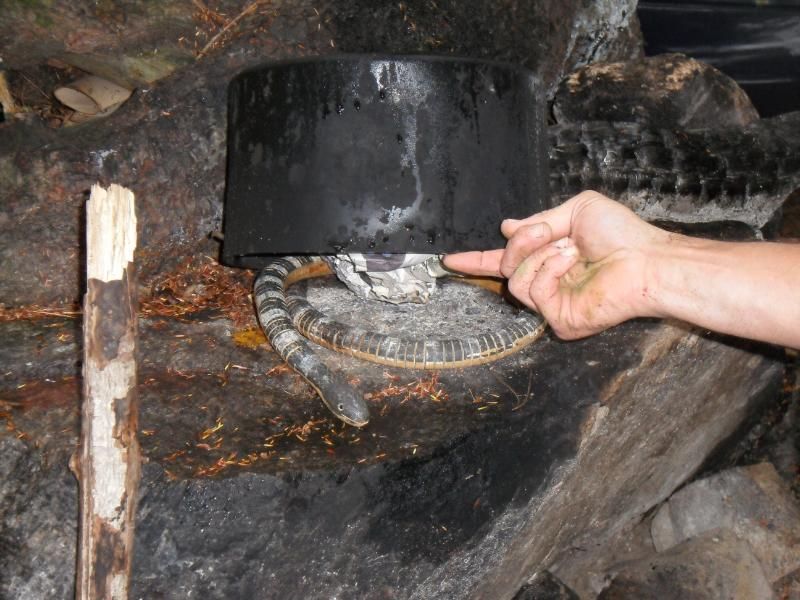 A GREAT PRANK LEFT BY THE PREVIOUS CAMPERS - IT WORKED REALLY WELL BTW
We planned on spending both days on David Lake, making day trips to nearby lakes and doing some fishing. This area is known for its trout fishing. The paddle home was the same route and it was an easy ride back.
This is a great weekend trip if you want something easy, yet remote. We did not see any canoes or trippers come through David Lake. We had the entire Lake to ourselves all weekend. I'd recommend this short trip again to anyone.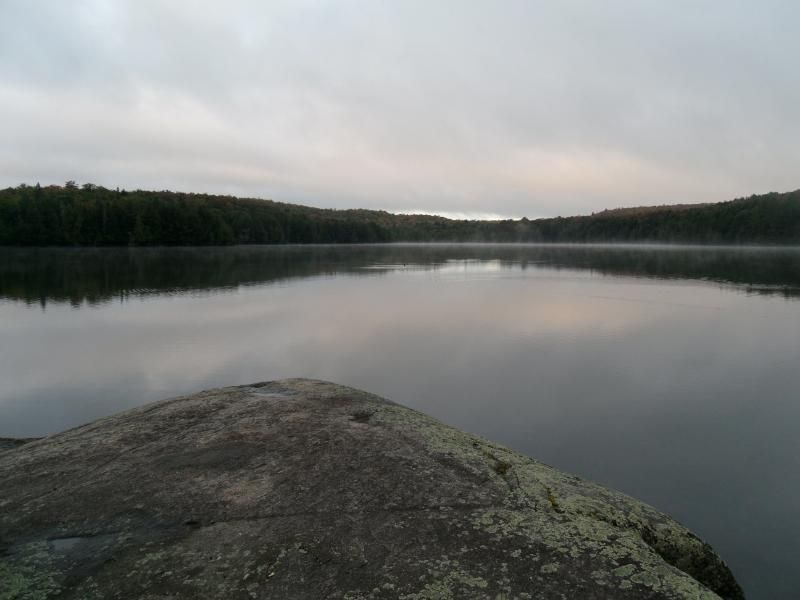 EAST VIEW FROM THE SWIMMING ROCK ON THE ISLAND SITE