I have gotten 2 new paddles since the holidays, and only used one: the 62" Bruce Smith cherry ottertail. I must say, I really love it. I was surprised how thin the shaft was upon receipt. I didn't have an expectation I suppose, and didn't think to discuss it with Bruce leading up to placing my order. I had measured my finger length and palm width for him to be sure the grip end would fit me well. And of course I followed his recommendation on shaft length. After my surprise about the shaft diameter (and FYI it is an oval in cross section, thicker front-to-back), I began using it every chance I got. It's too long for some (most?) of the rivers near me but it goes along anyway for the portions where I can use it, or for downstream portions. It's fantastic in lakes of course. The blade and the shaft are both flexible. It is easier to use for an extended period than a standard recreational or Sugar Island pattern or even a Grey Owl bent shaft. Maybe in some part because I'm still so excited about it? It is wonderful on underwater returns, I can palm roll it easily, and it's delightful to use as I try to improve my technique.
After 4 or 5 local daytrips, I noticed some wear on the tip. Apparently the biggest threat to this paddle's existence is being rubbed on the bottom of my canoe. So I dug up the maintenance instructions that came with it. Bruce says to mix up a batch of 85% BLO with 15% paint thinner or varsol. Ace had BLO and paint thinner, so that's what I got. He suggests mixing it in a Ball jar and labeling it "Paddle Oil". So I did. FYI, I didn't fill the entire quart jar, I aimed for 24oz and further, the proportions come out awfully close to 20/4oz and wouldn't you know, the jar is graduated thusly.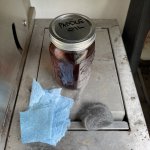 He suggested soaking the tip of the paddle in a container of the paddle oil at the end of each season to help protect the paddle. I didn't do this today, I just wiped down the whole paddle especially the rub marks I'd found. Probably unnecessarily premature maintenance, but it wasn't exactly a tomato stake either.
Now since I had this mixture ready to go, I also treated the shaft and grip of my as yet unused 66" Fishell "Ray Special". I ordered it with a varnished blade and oiled shaft and grip, and new owners are advised to rub another coat of BLO on the shaft and grip before first use. I had just never got a Round Tuit, so there it lay on my bow rack collecting dust. Well today was the day! I followed the rest of Bruce's instructions on the Fishell too and I'm pleased with the results. The finish is still thin. I did need to steel wool a spot on the grip where the grain lifted as it soaked up oil. So I will add a few more coats before using it.
The Bruce Smith paddle just has a fantastic glow about it, you want to touch it, caress it even. The Fishell is a lovely piece of cherry, but the shiny varnish lacks the glow and warmth of an oil finish. As it ages I may sand off the varnish and go oil on it as well. I may gently steel wool it anyway just to knock down the shine.
Here they be in all their black cherry glory!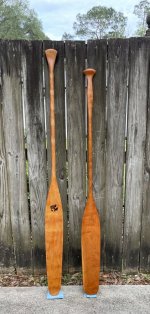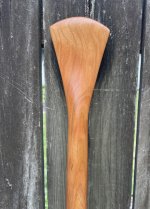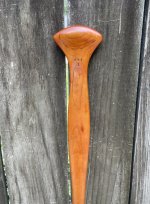 Last edited: