Administrator
Staff member
Joined

Oct 24, 2012
Messages

3,852
Reaction score

1,962
Location
Mine was the East Branch of the Penobscot River in Maine.
I spent every summer in Maine from age five to 18 with my grandparents. It must have been 1956 when we took our first drive up to Baxter State Park to see Mt. Katahdin and other sites. We stayed the night at small house that was right on the river in Grindstone, Maine, owned by a couple my grandparents had met somewhere, Mr. and Mrs. Smith. Their house was the only building I recall being in Grindstone.
Mr. Smith volunteered to take my grandfather and me down the river from about 15 miles upstream right to his back door. He paddled stern, I paddled bow, and my grandfather sat on the bottom of the canoe in the middle. There were some rapids and maneuvering required, which Mr. Smith took care of from the stern. I'm not sure we went as far south as Grindstone Falls.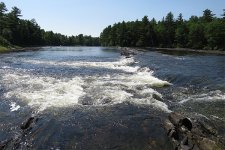 I recall the year mainly because Mrs. Smith talked about how much she enjoyed the first season of Cheyenne, starring Clint Walker.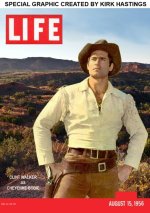 I also remember how thrilled I was to be propelled by currents, to bounce over waves, and to feel the wind in my face. 24 years later in northern California, I began my 20 year period as a serious whitewater fanatic.