Administrator
Staff member
Joined

Oct 24, 2012
Messages

3,030
Reaction score

1,214
Location
In 1987, after a training run with Tom Ploski and me on Section IV of the Chattooga and the Ocoee earlier that year (
), Nolan Whitesell became the first and still only open canoeist to run the continuous explosion waves, up to 30-feet high, of the Niagara Gorge, which also has the only eddy big enough to be visible in a print world atlas. He did so legally with some kayakers after a judge ordered New York State to issue a paddling permit after a long legal battle. Nolan had to put up his house as collateral for a bond for any rescue costs that New York State might incur.
Nolan is, of course, using his own original design canoe, the Piranha, which emphasized blunt ends to rise over waves and a pivoting bulges on the sides for heeled-over, side rocker turns. He uses what looks like Iliad and Norse paddles, which had vinyl covered aluminum shafts and magnum fiberglass blades.
In the video, which Nolan narrates, he estimates 100,000 CFS of water, but later estimated more than 150,000 CFS in
THIS ARTICLE
and 300,000 CFS in
THIS ARTICLE
.
Here is the canoe Nolan used in that run after it was bought years later by another paddler, showing his standard Perception Saddle outfitting and the special Niagara Gorge nameplate he put on the canoe. (All Nolan's boats had custom, serialized name plates for each customer.)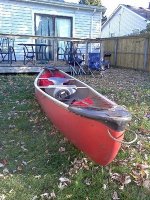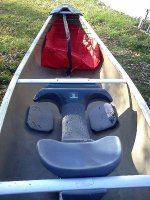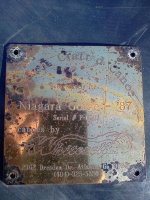 The VHS video of Nolan's 1987 run was unavailable on the internet for 34 years. Here it now is: