Joined

Jun 12, 2012
Messages

3,989
Reaction score

1,788
Location
I had an old tent fly from a 4 man Timberline Tent laying around so I tried to make a canoe cover for a 15' Chestnut Chum. I did some measuring and found that if I cut the fly in two sections, I would have just enough to cover the front and back of the canoe.
The Chum is a tandem canoe with 2 seats, but I had put new inwales in this canoe and at that point I made it a solo with one seat about 15" back from the center. So I cut up the fly and made it fit the canoe, even with an old stain on the bow and a misplaced seam right in the front.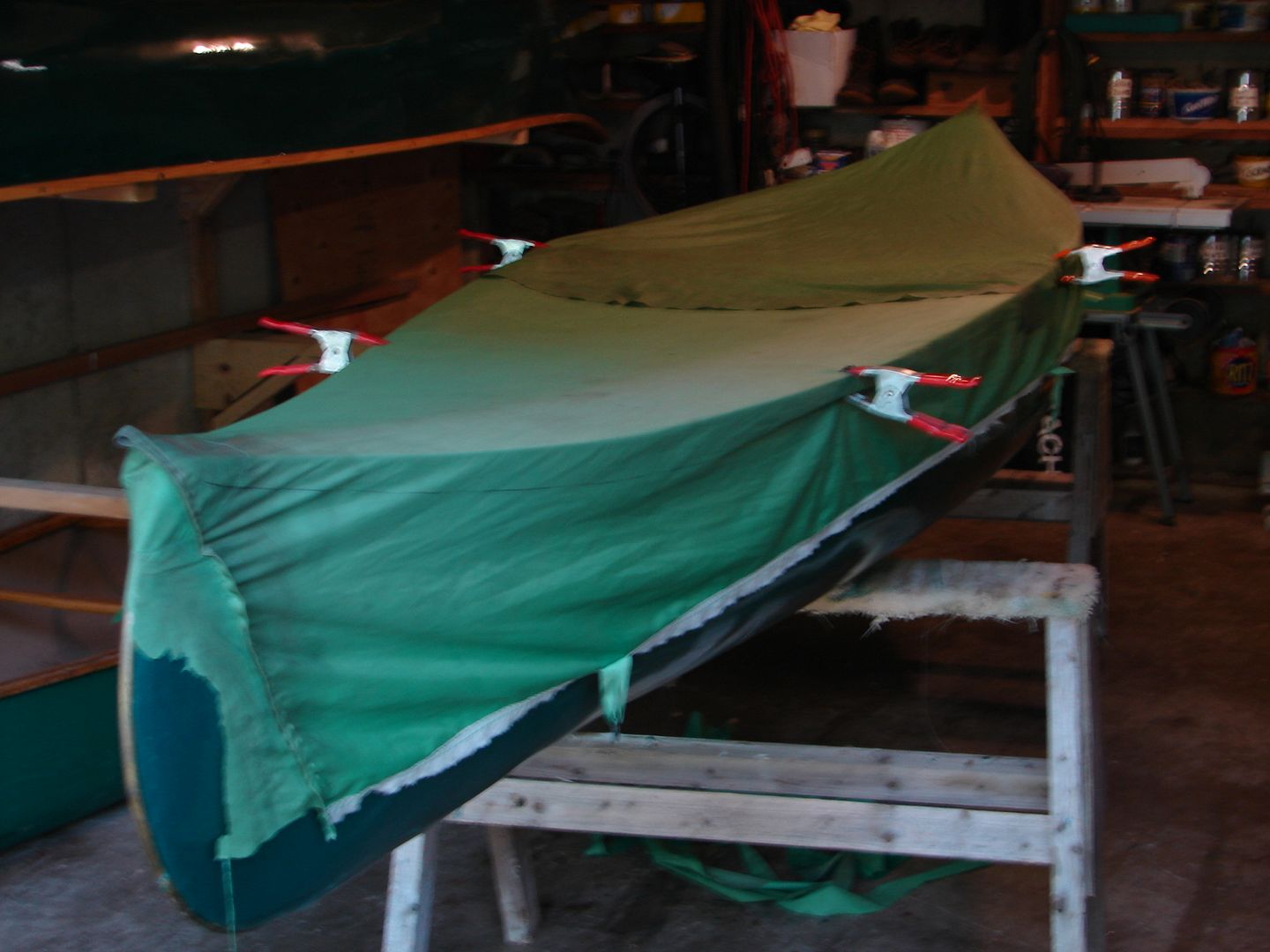 I was going to have a seam sewed just under the gunnels and use rope to secure the cover. You can see the lines for the seam in the picture above.
I thought buy pulling both ends tight towards the middle of the canoe, I could snug the cover tight to the bottom of the gunnels and have a nice easy on/easy off cover. This was before I had a sewing machine of my own and my wife prefers to opt out of my DIY projects for alot of good reasons
so I paid a local lady $60 to sew that seam. I could do that now with my own machine in 10 minutes and the machine only cost me $25. Sewing is pretty easy if you don't need perfection.
Well, after getting the cover sewed and threading some cord through I tested my idea. It was not a very good idea. First, and most importantly, that cord and cover is a dangerous thing.
My reason for having a cover was not for white water paddling or even moving water, but to keep me and my gear dry in the rain or in a wind tossed lake. While handling the cover and rope in my garage shop at the time, I came to realize how easy it would be to get tangled up in this rope should the canoe roll in a wave. Besides, the rope just didn't secure the cover very well and it probably wouldn't stay in place on a windy lake.
So I bit the bullet and installed snaps to the underside of my gunnels, and it worked very well. I install my own gunnels and as luck would have it, these new gunnels where a little wider than normal and that helped with the snaps.
I didn't get any pictures of the canoe and snaps up close, but here is the canoe in the middle of the Ontario Aluminum Navy
on a portage heading downstream on the Montreal River, Ontario. The pack is exposed there probably cause I had to dig my camera out, but otherwise it would be snug under the cover and dry, along with the wood and canvas.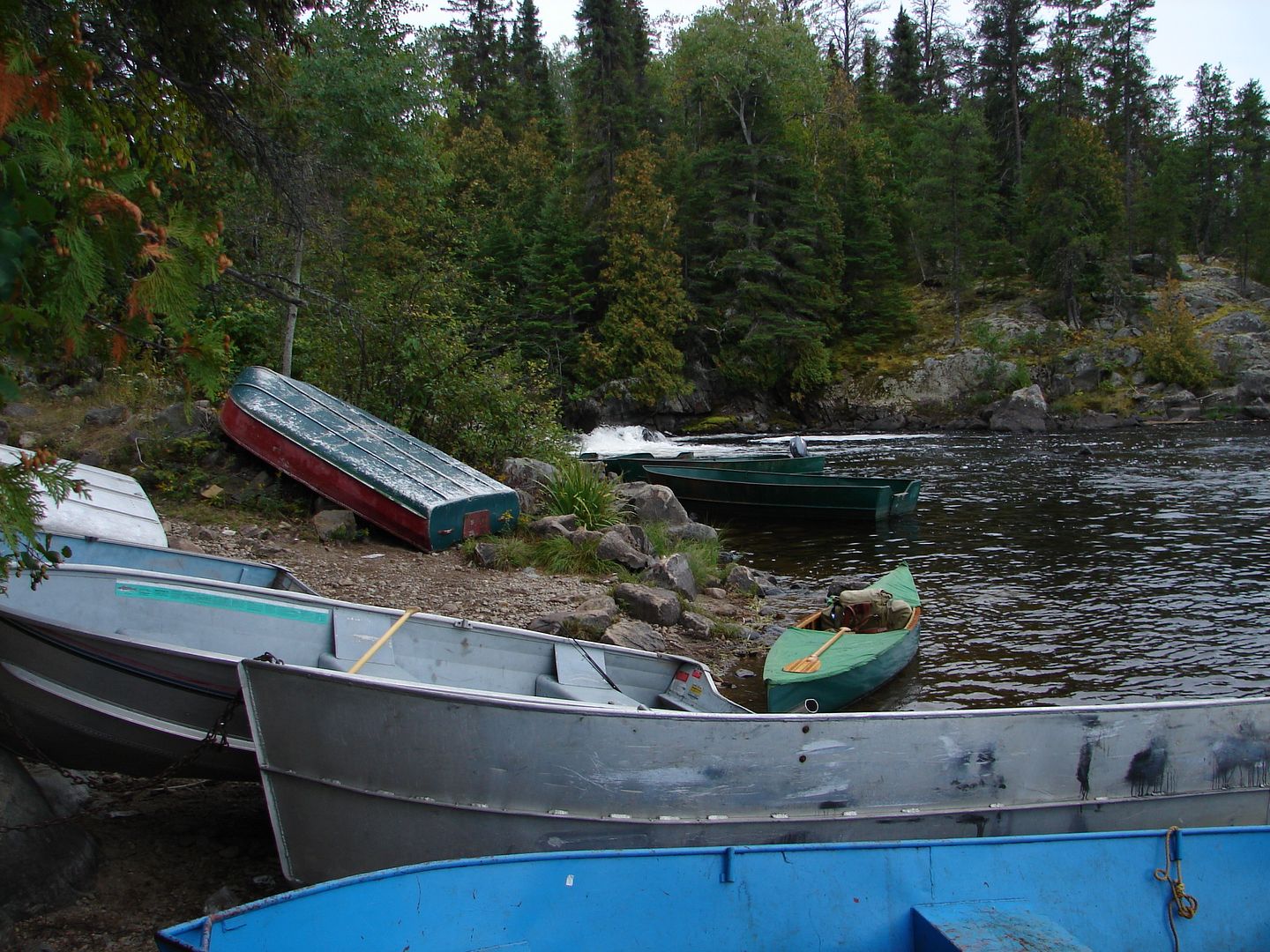 Here's a self portrait with a better view of the cover. I had left some extra material loose so I could fold it up to get into the canoe and then cover my lap while paddling.
This cover worked very well, the snaps where not the best, but the held and I carried extras for repairs. It took a few minutes to install, but to be warm, dry and out of the rain/wind really made for a more pleasant trip.
This picture is what happens when you balance a camera on a rock and try for a self portrait.
Or, you could say I was on Gibchacookie Lake (Cree for "Lake that tilts up")