Joined

Feb 1, 2013
Messages

3,687
Reaction score

1,151
Location
Got away from it all with my new bride Irene. She wanted to go to Burrows Lake, about a 20 minute drive from our place. Burrows is a big lake, known for its excellent walleye fishing and also for its unpredictable winds. There are several good campsites on the lake, but the best is a point at a narrows, which receives wind from either direction, and keeps the bugs tolerable.
After much scrambling around, we got a late departure and were on the water around 3:00 PM. The weather was beautiful with light southwesterly winds. We were quite worried, because a car from Ohio was parked in the parking lot, and I figured they would be camping at the point. After an hour of paddling, we rounded the corner and sighed with relief. The site was empty. It was also quite clean, and someone had left us a big pile of firewood, so I didn't even need the chainsaw.
The back of the site.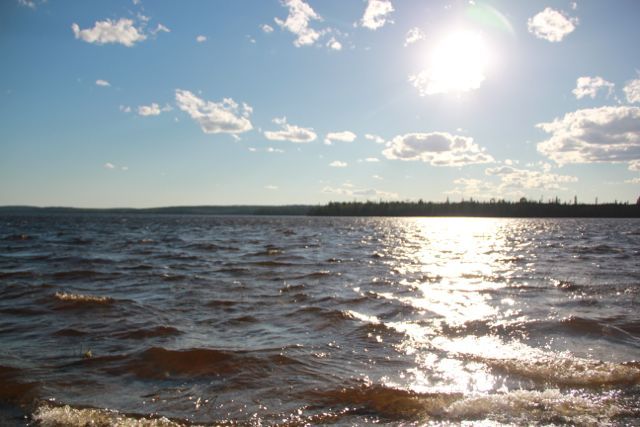 It was a gorgeous night, and it made me think upon all my good fortunes in life. Irene has taken a definite liking to canoeing, and is looking forward a real trip, where we travel each day to a new destination. She's also a real Northern gal, who can clean fish, and insists that I bring a gun when we go out. None of those liberal anti-gun sentiments there. In fact, she bought the gun below for me for Christmas.
I started to think about all the benefits that have been brought to my life through the internet too. It's weird, the internet can be a cesspit of corruption, but it can also be a community of friends. For instance, I was introduced to the BLR .308 above by a person on another canoe site. The hardware store in town happened to have one, and I ended up with it.
The axe sheath below was given to me in a spirit of friendship by our own Oldie Moldie, and I take pride carrying my axe around, wrapped up in such craftsmanship.
My Cooke Custom tarp came to me from Harlan, who I met long before he was Solotripping. I also bought a canoe off him last year.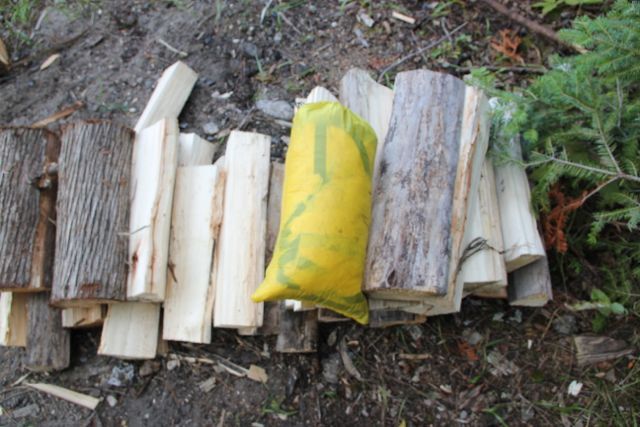 The dry sack that I put around my guns when canoeing was sent to me by Yellowcanoe a few years ago, I traded her for a book about the history of chestnut canoes.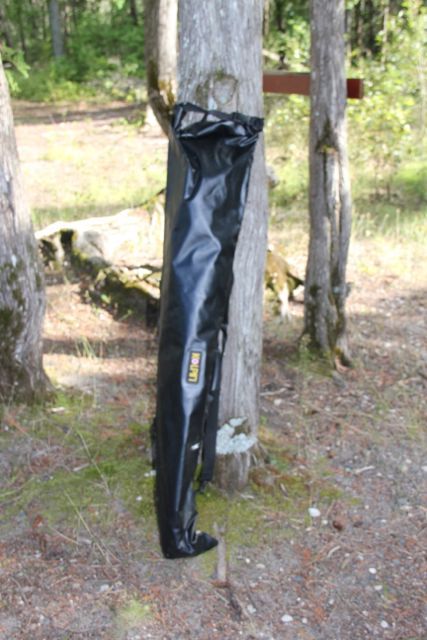 This was our first time using the Helinox chairs, which were given to us as a wedding present by a couple I met on another canoe site, and actually did a trip with. These chairs are very sweet, and very comfortable, and are now a permanent fixture for tripping.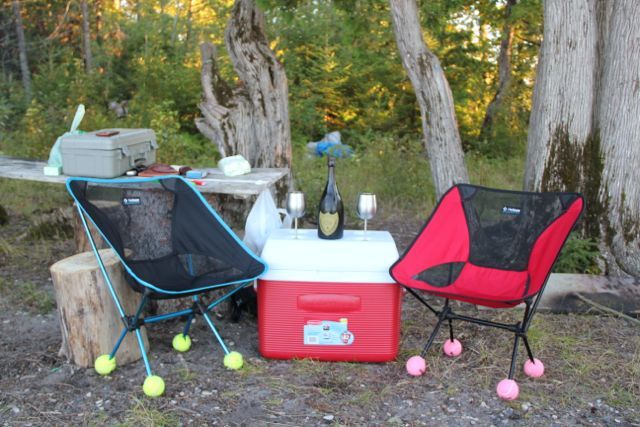 The champagne was given to me by a buddy who I have taken on many canoe trips, and the cool metal cups were a gift from another couple who we introduced to canoeing this year.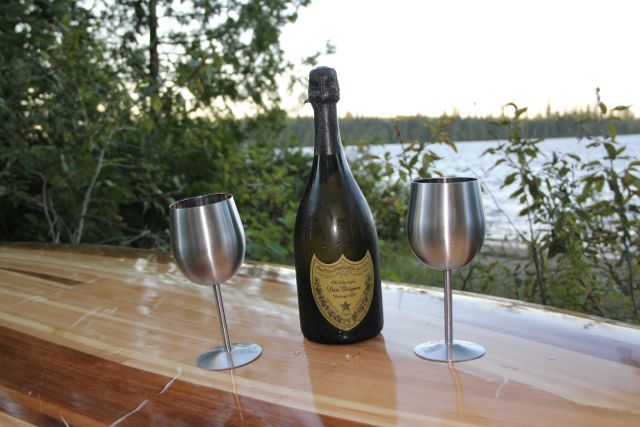 Perhaps I'm growing maudlin, but I have a lot to be happy about. As the sun went down, and the moon went up, we both realized we were lucky to live in such a wild place.
The next day dawned cloudy, windy and rainy. We beat it down to the railroad bridge about 6 K away, and began catching walleye very quickly. Irene had a monster right up to the boat, but I couldn't manage to grab it, and it slipped away. We kept three good size fish and decided to beat it back to camp, as the rain was coming in swells, and the wind was gusting around.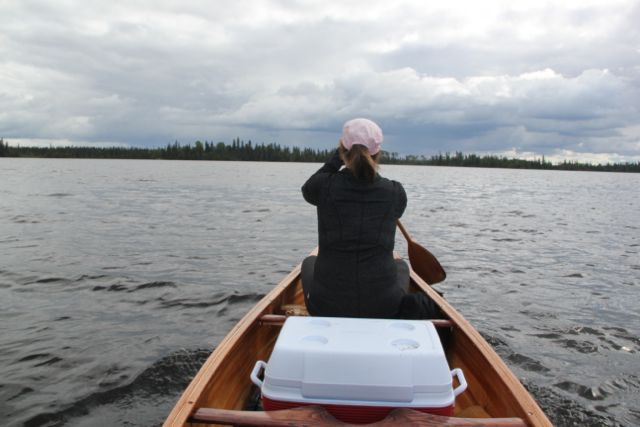 Once back at camp, we started the ultimate Honeymoon supper. First, fresh walleye, prepared in a ziplock.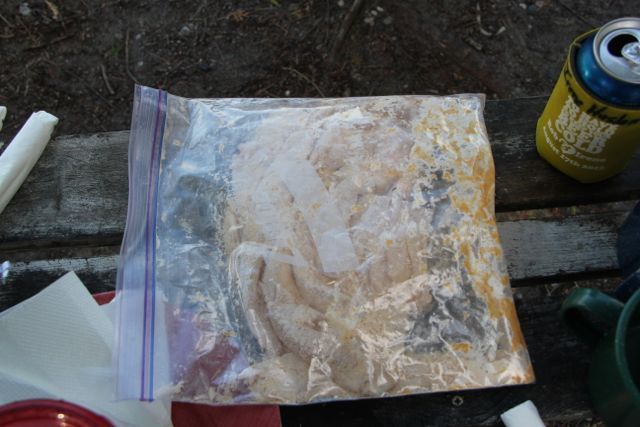 Since there were no ports, we luxuriated with the coleman two burner.
The end product was one of the best meals I have ever had in my life. The salad, the fish and the beans, all washed down by a nice merlot.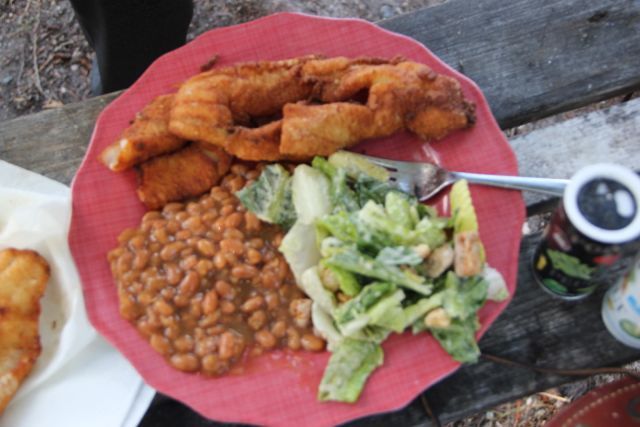 Life is good. Cheers!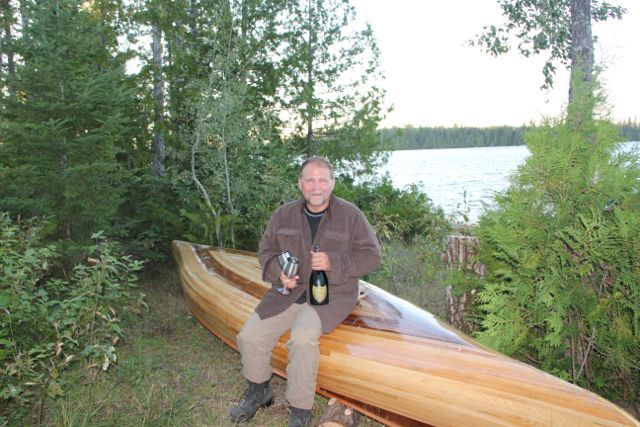 Last edited: