ACCESS POINT START :
OPEONGO (11) |
ACCESS POINT FINISH:
OPEONGO (11)
# OF DAYS / NIGHTS:
6 D / 5 N |
DIFFICULTY LEVEL:
Advanced
TOTAL KM:
131.9 KM |
# OF PORTAGES (DISTANCE):
25 (18.1 KM)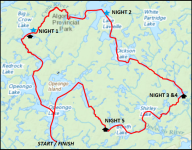 ​
The opening of all provincial parks in Ontario was delayed in 2020 due to Covid restrictions. We had managed to get a small two-night trip out of Kingscote under our belts so by the time our August trip rolled around we were champing at the bit. This loop had been on our radar for quite some time. We had avoided Opeongo for many years as we built up our experience, and decided it was now time to tackle the park's largest lake. We were also looking forward to visiting four cabins and planned to stay multiple nights in the McKaskill cabin. The route we selected was going to start light, and then ramp up in distance quickly to afford a rest day at the cabin for nights 3 and 4. To save ourselves some time and energy, we elected to take a water taxi from Opeongo to the portage in Proulx. This was a neat experience, and we would recommend Opeongo Outfitters to future trippers!
This trip was going to include excellent river travel on the Crow, massive lakes (Opeongo, Dickson, Lavieille) and a healthy amount of mid summer portaging.
Goals of the trip were the following:
Perform a food drop at Shall Lake
Paddle Opeongo for the first time
Take Ryan and Rich to my favourite lake (Lavieille)
Visit 4 Cabins (Big Crow, Kitty, Tattler) and stay at one (McKaskill)
Take our first water taxi
Paddle Dickson for the first time