I was able to get out on the Merrimac River today for a short paddle from the Rocks Village Bridge down to Cashman Park in Newburyport (approx 8.4 miles). Beautiful weather - sunny, comfortable with the very slight breeze moving the air enough to avoid being too hot in the dry suit, but not enough to be a problem. Launched just after high tide, so the water was slack and then the current started to pick up as I moved down river. By the time I got down close to Cashman Park, the moorings were kicking up wakes and a couple had been pulled under.
The Rocks Village Bridge put in is on river right, just over and upstream from the bridge. Bear right as you come off the bridge from the north and there's dirt parking parallel to the road on the river side. The ramp is at the end closest to the bridge.
The paddle itself was pretty uneventful - just what I was looking for - a bit of Zen time on the water - seeing how quiet the boat could be (the boat can be perfectly quiet - it only that danged paddler would settle down). Had a brief greeting chat with a kayaker heading upriver, but she was the only other person on the water. Took a minute to slide over into a wetland channel on river right, but it dead-ended pretty quickly so backed out to the main river and continued on downstream.
Only took a couple of pictures - I keep forgetting to pull the camera out. Did get a nice shot of Lowell's Boat Shop from across the river. If you're not familiar, it was established in 1793 and now is both a museum and still a working boat shop, the oldest continuously operating boat shop in the country. Besides commercial work, it does projects like building the Mayflower Shallop II, an historical reproduction of the small rowing and sailing vessel the Pilgrims would have used to "discover" Plymouth Harbor in 1621. If you haven't been and are in the area it's worth a stop.
The end of the paddle required a bit of care. A lot of the marina docks are still in the water on river right so you need to move almost to mid stream to avoid them. The longest is also the one just upriver from the Cashman Park ramp, so when the current is running you have to swing well out into the river, then ferry into shore, paddling at a slightly upriver angle to make it to the bank before you're pushed past the landing. Not a struggle, just need to think about it to avoid getting into a awkward spot.
Not an amazing trip, but time on the water and a nice break.
Respectfully submitted
Keith
Ready to head out.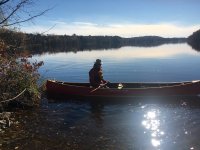 Just a nice day on the Merrimac.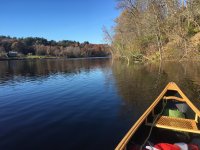 Lowee
Lowell's Boat Shop is the triple red building in the center of the picture.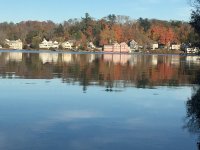 Cashman Park ramp - end of a nice paddle